Surfshark VPN (2022) Review guide
Are you looking for a new Surfshark VPN review? That's logical, the last couple of years these services have gained enormous popularity, almost 30% of the internet users has been using VPN services over the past 5 years. We at Globalwatchonline.com tested and tried all different providers for you, read our comprehensive Surfshark VPN review and learn everything about this service, we are sure that once you're done reading you will know if this provider suits you.
Who and what is Surfshark?
Is Surfshark really "eating other VPN deals alive" as they say? In this Surfshark review, I'll see if they've got what it takes for them to live up to that slogan or if they'll be swallowed by the competition. Surfshark has a no-log policy, kill-switch feature, as well as a camouflage mode to make your internet browsing activity look normal to your internet provider.
This VPN offers top features you would want out of a reliable, secure, and easy-to-use VPN. As a newer VPN, it seems to be one of the cheapest on the market at just $2.49 USD per month if you sign up for a 24-month package.
Along with unlimited device usage and 15 Netflix libraries, you might wonder why their price is so good, especially with three months free. Let's dive in to see if Surfshark really is at the top of the food chain in the Netflix VPN world.
One of Surfshark's focal points is its low price. The company has a no-log policy and does so for less money than many other VPNs. But does that make Surfshark a better choice than, say, PureVPN, ExpressVPN or NordVPN? Read more and find out if this provider belongs to the best VPN services of 2021.
What are the advantages and pro's?
Very easy to use and easy to install.
Can be used on infinite number of devices (this is quite unique).
Secure protocols and no logs.
Very competitively priced.
Large Netflix offerings available, including American and Dutch Netflix.
Torrent traffic is allowed.
Good connection speeds.
Has useful extra options such as an AdBlocker, NoBorders Mode, Camouflage Mode, GPS spoofing and Whitelister (Split tunneling).
How does Surfshark work?
For any new VPN user, Surfshark is simple to install and activate. By following the steps below, you'll see that the setup process is user-friendly and quick. As a brand-new user, you'll be prompted to create an account or log in with an existing one before installing Surfshark. Once installed, Surfshark walks you through the setup process. I've listed each step for you below, although I truly think a beginner would feel comfortable installing and activating Surfshark on their own.
Step 1:
Select your preferred language.
Step 2:
Select where you would like the software to be stored on your disk. Remember, the install requires 32MB of free space, so be sure that this is available before you begin.
Step 3:
Run the downloaded software to complete the installation and begin activation. One pro of Surfshark VPN is that their software is very small, sleek, and simple to use. The interface is extremely user-friendly and can be minimized even further with what they call the "mini mode," as you'll see in the screenshot below. Once you have successfully installed Surfshark, simply click "connect" to connect to the fastest server available:
Surfshark has a lot of good features
With Surfshark's CleanWeb built-in adblocker feature, you won't have to worry about malware or phishing attempts. Combine that with a pleasant and uninterrupted browsing experience that doesn't slow down your bandwidth. No more annoying ads or pop-ups, but most importantly, you're protected from any attempts to gain access to your information and tracking.
To automatically detect malware, Surfshark consistently updates their database of malware-infected websites and prevents you from accessing them. At the time of my research, they had detected over 1 million infected sites, but rest assured that you're protected with their VPN and CleanWeb feature. The CleanWeb feature is available on Windows, macOS VPN, Android, and iOS.
Whitelister
With Whitelister, you can split-tunnel your VPN to personalize your browsing experience. You can set certain sites and IP addresses to bypass the VPN completely by creating a "white list."
This allows you to control the privacy and security of the websites you truly need protection for, while allowing other safe sites to connect directly to the internet. If you're on a private connection, this can be a great tool to use.
However, be careful. Whitelisting any site or IP address can leave you open to an unsecured connection without encryption.
The benefit of a feature like this can be appreciated when setting up network devices, such as a printer or scanner, to avoid the additional hassle of setting them up through the VPN. It can also eliminate the need to turn on and off the VPN by simply adding your favorite secure sites to your white list. Privacy beyond VPN includes premium features such as HackLock—email leak protection—and BlindSearch—private search— as you'll see in the screenshot below. At an additional $0.99 USD per month, you can add this to your current Surfshark subscription by clicking "more info."
Locations
Surfshark is extremely usable, and most features can be customized. As for server locations, you can easily favorite and toggle between servers via the Locations tab. You could choose the "fastest server" or "closest country," and this option allows you the additional personalization to choose your favorites.
Server network Surfshark
This is our conclusions regarding Surfshark's server network and locations:
Surfshark has a good server network of 3200+ servers spread across 65 countries
All Surfshark servers are compatible with (P2P) downloading
You don't have to manually choose a P2P server
There are many US servers that all seem to work with Netflix
It is possible to connect through two VPN servers at the same time (MultiHop)
You cannot request a dedicated IP address with Surfshark
Surfshark has 3200+ servers spread across 65 countries. They have servers in the following countries:
Europe: Albania, Austria, Belgium, Bosnia and Herzegovina, Bulgaria, Cyprus, Czech Republic, Denmark, Estonia, Finland, France, Germany, Greece, Hungary, Ireland, Iceland, Italy, Croatia, Latvia, Luxembourg, Moldova, Netherlands, North Macedonia, Norway, Ukraine, Poland, Portugal, Romania, Russia, Serbia, Slovakia, Slovenia, Spain, Sweden, Switzerland, United Kingdom
North and South America: Argentina, Brazil, Canada, Chile, Colombia, Costa Rica, Mexico, Paraguay, United States
Middle East and Africa: Israel, Nigeria,United Arab Emirates, South Africa
Asia-Pacific region: Australia, Azerbaijan, Philippines, Hong Kong, India, Indonesia, Japan, Kazakhstan, Malaysia, New Zealand, Singapore, Taiwan, Thailand, Vietnam, South Korea
MultiHop
Surfshark offers a double VPN connection, giving you another layer of protection and security. By connecting via two different VPN servers, often located in two different countries, you can hide your location better and improve your privacy further. This feature is great for users that are hyper-sensitive about their online privacy. Keep in mind that a good VPN such as Surfshark will offer sufficient protection even if you only use their single VPN server. The best part? Like all of Surfshark's features, MultiHop is easy to set up. Simply head to the Locations tab, select MultiHop at the top of the screen, and scroll to select your favorite pair.
Multiple/Unlimited Device Support
While you'll often see a limit to the number of devices under one VPN account, Surfshark boasts an unlimited devices feature. This means that you can have simultaneous connections on all of your family's devices, protecting your privacy from every entrance point. You can connect smart TVs, gaming consoles, and even your FireStick with FireTV! Surfshark's offer includes an ad blocker, torrenting, independent audits, and Whitelister, which many other VPNs don't currently offer.
Numerous Servers in Different Countries Offered
Surfshark has over 1,000 servers in over 60 countries, giving you access to the most reliable and fastest VPN servers while still providing the most secure connection possible. I mentioned previously that they have a no-logs policy as most VPNs do. They also ensure that all servers support peer-to-peer sharing.
Speed of Surfshark VPN
Speed testing is a necessity, since using a VPN has the possibility of slowing your connection. I tested the speed using Surfshark on four different servers. You will see the results below. For reference, prior to using the VPN, our benchmark speed test showed 237 Mbps download and 12 Mbps upload.
New York – US
Ping: 57ms
Download: 161.18 Mbps
Upload: 9.07 Mbps
Sydney – Australia
Ping: 211ms
Download: 150.01 Mbps
Upload: 5.44 Mbps
Paris – France
Ping: 108ms
Download: 170.77 Mbps
Upload: 8.56 Mbps
The tests will have different results based on the time of day and node saturation. I attempted "Fastest Server" Connect via SurfShark to stack against these currently higher speeds from servers in different countries. To confirm my results, I connected to New York again, and speeds were faster than the first but just falling short of Toronto by 2 Mbps:
New York, Second Attempt – US
Ping: 17ms
Download: 181.62 Mbps
Upload: 9.03 Mbps
Torrenting / P2P / TOR Allowed With Surfshark
VPNs for torrenting are practically a necessity to keep your anonymity when downloading or seeding torrents, and Surfshark claims that they're the best VPN out there for that exact purpose. Your internet providers can throttle your connection speed based on the content you download or torrent, so a VPN helps you avoid this.
Using a VPN especially while torrenting can also offer protection from possible downloaded malware. This is no different with Surfshark. But what makes Surfshark stand out is their compatibility with all P2P clients, including uTorrent, BitTorrent, Vuze, and many others.
Surfshark VPN is compatible with any torrent site, so you can access your favorite P2P sites without restrictions, such as ThePirateBay and LimeTorrents. You can get top-notch P2P speeds while using Surfshark's servers in the following countries:
United States (US)
United Kingdom (UK)
Canada (CA)
Germany (DE)
Italy (IT)
Poland (PL)
Spain (IS)
Norway (NO)
Denmark (DK)
Luxembourg (LU)
Hong Kong (HK)
Singapore (SG)
Netherlands (NL)
Bulgaria (BG)
Belgium (BE)
Switzerland (CH)
Slovakia (SK)
Serbia (RS)
Finland (FI)
This doesn't mean you have to stick to these countries' servers when torrenting, however. If you'd prefer, SurfShark can reroute you to other servers located in the Netherlands, Canada, or the United States, depending on your actual physical location.These P2P connections include streaming players like VLC or PopcornTime, as well as torrent software like BitTorrent, Vuze, or uTorrent.
Surfshark also allows for connection to the Tor network to fully secure your browsing experience. Tor is "the onion router," which ensures that all of your online web traffic remains completely anonymous. Because the Tor network is run by volunteers, security is not always guaranteed. Running Tor with Surfshark grants you that anonymity with the security and safety of a reliable VPN.
Netflix Works in Most Places With Surfershark
You're in luck, watching Netflix with Surfshark is easy as it gets. Surfshark is one of our best VPNs for Netflix. Netflix offers different content in different countries depending on where you are located. Using a VPN with Netflix allows you to access content you wouldn't normally be able to watch. Here are the Netflix platforms you'll find on their corresponding servers:
Netflix UK > UK servers
Netflix IN > India servers
Netflix IT > Italy servers
Netflix CA > Canada servers
Netflix DE > Germany servers
Netflix AU > Australia servers
Netflix FR > France servers
Netflix NL > Netherlands servers
Netflix BR > Brazil servers
Netflix US > All servers in countries other than the UK, Japan, India, Italy, Canada, Germany, Korea, Netherlands, Turkey, France, Australia, Brazil, or Singapore
Overall, all US servers I tested worked great. I did experience some issues when testing for Japan and Spain.
Servers tested:
New York – US: Yes
Los Angeles – US: Yes
Miami – US: Yes
Atlanta – US: Yes
Chicago – US: Yes
Toronto – Canada: Yes
Madrid – Spain: No (proxy detected)
New Zealand: Yes
Japan: No (proxy detected)
London – UK: Yes
Mumbai – India: Yes
Kill Switch
This feature will turn off your internet connection immediately if the VPN drops for whatever reason, so that your data protection and privacy are never compromised. Surfshark's Kill Switch option is available on Windows, macOS, and iOS. If you're working with sensitive information or even torrenting, turning on the Kill Switch feature offers you extra security. As with everything with Surfshark, it's extremely easy to use, as you'll see below.
Step 1. In the Surfshark app, navigate to Settings > Connectivity.
Step 2: Switch it on, and it is activated. If, for some reason, you get disconnected, a notification will pop up, and your internet access will be immediately terminated.
No Logging Policy
When using a VPN, a no-log policy should be standard, as this keeps your data, history, IP address, traffic, and connection timestamps from being collected and stored. Surfshark protects all traffic with AES-256-GCM encryption, which is the industry-leading standard. This also keeps your traffic from suffering from any IP, WebRTC, or DNS leaks. The personal information Surfshark admits to storing is your login information (email address and encrypted password) and your basic billing information in order to create your account.
They also mention that they collect anonymous information such as performance data and crash reports on the apps to continuously improve your experience using their VPN. See their privacy policy for more information.
No Borders Mode
Depending on where you may be located while browsing the Internet, certain sites can be blocked or restricted. Surfshark's No Borders mode opens up the internet for you to freely browse, unblocked, without geo-restrictions. From streaming platforms to government-based censored content, you'll be able to explore with unlimited access.
Private DNS and Leak Protection
Each server has a private DNS and leak protection when using the IPv4 stack. This creates yet another level of security.
Camouflage Mode
What I do love about Surfshark is their camouflage mode, which makes your traffic appear normal to avoid suspicion from your provider that you're using a VPN, so you can browse in peace.
Hide Your IP
Your IP address alone can tell a LOT about you, including your physical location. Using a VPN is the easiest and most secure way to mask your IP. With Surfshark, simply logging in and connecting will automatically hide it, keeping your data, history, and location private.
Encryption
Surfshark uses industry-leading AES-256-GCM encryption, so you can rest assured that your information is protected.
Secure Protocols
Their default protocol on all their apps is IKEv2/IPsec, which is often a standard on the leading VPNs. However, OpenVPN is also an option with Surfshark.
Live Chat, 24/7, FAQs and Tutorials
Surfshark has a great customer support platform allowing you to search through support documentation and walk through tutorials on how to use their VPN and its features. If you run into an issue or have an unanswered question, their support team is available via live chat or email 24/7.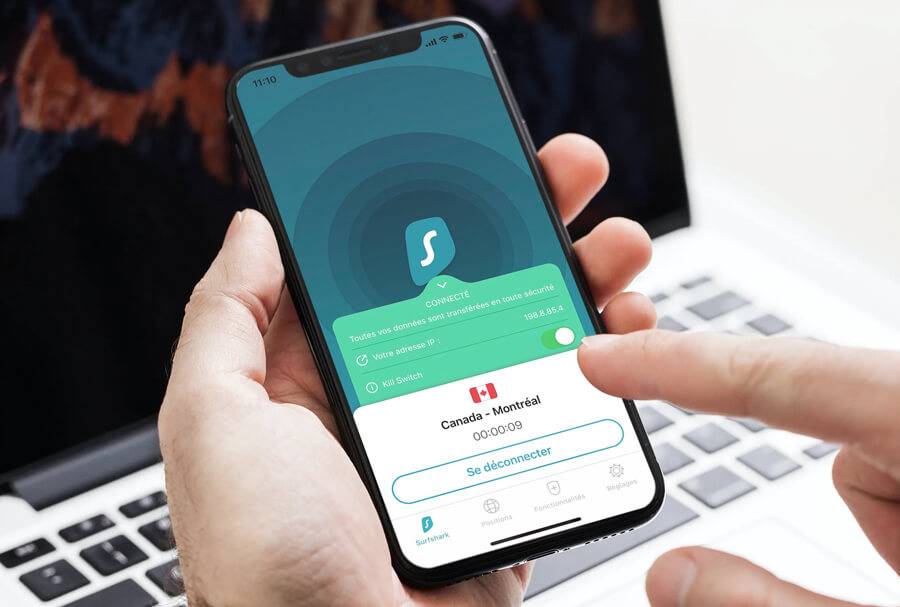 Is Surfshark easy to use?
Surfshark is really easy to use — its app has a clean, intuitive layout and is suitable even for VPN beginners. It functions almost completely the same way on Windows, Mac, iOS, and Android, which makes it simple to use across platforms. That means you don't have to waste time getting used to 4 completely different apps if you own multiple devices. The app is available in 15 languages, including Spanish, German, Japanese, Korean, and Chinese.
I especially liked that the advanced settings and features menus include a little description under every option explaining what each feature/setting does. It's also super handy to be able to save your favorite servers for easy access later. There are a few minor things I would like to see improved with Surfshark. The auto-connect feature could be better I experienced slightly faster speeds manually selecting a server a lot of the time.
It would also be helpful to include a P2P server list, like with MultiHop and Static Servers, to make choosing a specific torrenting-optimized one more straightforward. I found it difficult to find individual server information (like server load and ping time) on Windows and Android. This is something I like to see because it helps me choose the fastest server possible. After contacting customer support about this issue, they informed me that you must be disconnected from the VPN to see this information.
Surfshark VPN Cons
I found very little information about Surfshark's physical location, so their lack of transparency can be a cause for concern, as you'll see in their response to this question below. They mention that they are under the jurisdiction of the British Virgin Islands, a region away from the 14 Eyes, but don't specify where. Don't worry though, a lot of companies in the industry do that – look at ExpressVPN and NordVPN.
Pricing Plans
Surfshark offers one of the lowest pricing packages I have seen, with just $2.49 USD per month if you sign up for their 24-month package. Even if you are concerned with making a long-term commitment, they offer a 30-day money-back guarantee. You'll see that they offer 1-month and 12-month plans as well at a higher price if you would be interested in a short-term option.
30 days: $12.95 a month = $155.40 a year
6 months: $6.49 a month = $77.88 a year
24 months: $2.49 per month
For payment methods, Surfshark offers flexibility. You can pay using a multitude of options, including Paypal, Apple Pay, cryptocurrency and Alipay
Money-Back Guarantee
They offer a 30-day money-back guarantee, even on their 24-month plan. As long as your account does not breach their Terms of Service, reach out to their customer support team to request a refund.
Free Trial
Surfshark doesn't truly have a "free" trial VPN, but they offer a risk-free subscription for 30 days. If you aren't satisfied within those 30 days, you can simply request a refund. The only true "free" trial is through Google Play or the Apple App Store. You must provide your credit card information upfront, but you won't be charged until the 7-day trial is up. At that point, you will be charged if you choose to continue.
Would we recommend Surfshark?
I was extremely positively surprised when I first used Surfshark. New VPN providers are not always of a high quality, but with Surfshark this is the case. Surfshark is a fantastic VPN provider that is certainly not inferior to providers like NordVPN and ExpressVPN. On top of that, Surfshark is also very inexpensive. So as far as I'm concerned, Surfshark is definitely the best choice for novice VPN users.
We 100% recommend Surfshark. Of all its competitors, it has the best value and provides you with everything a top VPN should: multiple advanced security features, reliable network and speeds, consistent unblocking abilities, and a strong commitment to user privacy and security.
I was really impressed with Surfshark's customer support and its level of transparency while reading over its privacy policy, as well. In addition, one of its greatest selling points is that you can connect an unlimited number of devices simultaneously, making its comparably lower price point even more worth it.