ExpressVPN (2022) Review guide
Are you looking for a new ExpressVPN review? That's logical, the last couple of years these services have gained enormous popularity, almost 30% of the internet users has been using VPN services over the past 5 years. We at Globalwatchonline.com tested and tried all different providers for you, read our comprehensive ExpressVPN review and learn everything about this service, we are sure that once you're done reading you will know if this provider suits you and belongs to the best VPN providers of 2021.
Who and what is ExpressVPN?
After reviewing dozens of VPNs, I can say that ExpressVPN app can be considered fast, secure and efficient. Their biggest con is their current pricing. ExpressVPN is fast, secure and keeps you fully anonymous with their strict no logging policy. They allow the use of a VPN router and work well with torrenting, it even works with Tor for the maximum level of privacy. The app looks great and it's very easy to use. ExpressVPN supports virtually all devices you need it on.
ExpressVPN uses the industry standard OpenVPN tunneling protocol and AES 256-bit as default, but if you're more techy and want to spice it up, you can do so manually. Their server park consists of a staggering amount of 3000+ servers in 94 countries.
The price of their service is rather expensive and it isn't the best option for Netflix. In our tests, only 6 out of 30 US servers worked.All in all, it's a very good premium VPN service, but not the best choice when you're looking for a Netflix VPN or if your looking for a cheap VPN with a lower budget. If you're looking to be secure and anonymous, ExpressVPN is an excellent choice.
ExpressVPN is based in the British Virgin Islands. This means that, according to local laws, the company does not have to keep records. Therefore, no traffic logs are kept.
With a subscription, you can connect five devices at once and get access to a network of more than 3,000 servers at 160 server locations in 94 countries. Furthermore, ExpressVPN is very user-friendly and therefore accessible to everyone. The VPN app is clear and works intuitively, so you don't have to be a techie to use ExpressVPN.
What are the advantages and pro's?
Good VPN in terms of speed and security
User-friendly software; connected at the push of a button
Big choice of servers (especially many countries available)
Never been involved in data scandals or noteworthy incidents
30-day money-back guarantee
American Netflix available
Torrents are possible
Huge Selection of Servers In Almost Any Country
One of the biggest advantages of ExpressVPN is the sheer number of servers. This VPN boasts 3,000 servers in 160 server locations in 94 countries. They have a server on every single continent except for Antarctica. ExpressVPN only competes with Nord VPN, PIA, Surfshark and CyberGhost when it comes down to the sheer number of servers they offer.
For most of their servers, the registered IP address and physical server are in the same country, but they also give you the option of using virtual servers. Virtual servers match the registered IP address to the country you've connected to, although their servers are physically located in another country that's usually close by.
Though less than 3% of their servers are virtual servers, these servers make sure that you enjoy a speedy, dependable, and secure connection at all times. This large selection of servers means you won't have to settle for the farthest ones from you, which are usually the slowest.
Speed Tests Of ExpressVPN Are Really Fast
Another important aspect of ExpressVPN that makes them easy to like is their speed. I tested their performance on SpeedTest.net and Webpagetest.org to be extra thorough. The results from SpeedTest.net show a blazingly fast performance for most of the locations tested.
Below you'll first see some speed tests to actually find out how fast ExpressVPN is. Then you can read more about the speed test that ExpressVPN itself offers and we share our own experiences with ExpressVPN's speed. In short, here are our findings on ExpressVPN's speed:
ExpressVPN is a VPN with excellent speeds.
There was no noticeable difference in speed with daily use.
ExpressVPN offers its own speed test.
New Jersey
Ping: 25ms / Download: 45.14 Mbps / Upload: 18.60 Mbps
New York
Ping: 39ms / Download: 175.75 Mbps / Upload: 46.54 Mbps
Europe (UK)
Ping: 174ms / Download: 242.16 Mbps / Upload: 43.77 Mbps
Hong Kong
Ping: 447ms / Download: 136.18 Mbps / Upload: 13.42 Mbps
Europe (UK)
Ping: 107ms / Download: 140 Mbps / Upload: 37 Mbps
Hong Kong
Ping: 247ms / Download: 130 Mbps / Upload: 28 Mbps
Still, you should never put too much emphasis on a speed test. Different factors like the physical location, your internet connection, and the speed of your computer can impact these results.
Great Usability And Platform
ExpressVPN claims that you can get yourself set up with their service in about 5 minutes, so I wanted to test this out. I was pleasantly surprised that I was able to install and activate ExpressVPN quickly and with no problems. Before I knew it, I was already using their "Smart Location" feature to efficiently connect to their server. You can even manually configure your connection by using OS-level VPN settings. There's also support for literally every single device you can think of—more on that later in the review.
The look of the ExpressVPN software is very professional and clear. The software works very simply and intuitively. All options and features are self-explanatory. Most users do not need a lot of functionalities. A power button and option to change the server location often suffice. This is exactly what ExpressVPN offers, making ExpressVPN very easy to use as well.
Fortunately, ExpressVPN also offers a settings menu in the top left corner of the app. Here you can adjust the settings of your VPN connection to your own preferences. In addition, you can also find the speed test and help function in these settings. In the early years, the software of ExpressVPN was only available in English and is translated into different languages.
How Does ExpressVPN work?
Get started in just three steps:
Choose your subscription.
Head to their setup page.
Download and install ExpressVPN.
ExpressVPN features
Network Lock: Kill-Switch: In case your VPN is disconnected, it's crucial that your data still doesn't get compromised. Meet their kill-switch, called Network Lock. As soon as your connection suffers any interruption, this will stop any traffic from going in or out of your device. I was happy to realize that this means that my personal data will never be exposed to anyone on the web, whether my ISP or criminals. Even a failed connection won't compromise my information. ExpressVPN offers this as a standard feature on their apps for Mac, Windows, Linux, and routers.
Device Compatibility And The Use Of VPN Routers
There's a lot of value in just one subscription since you can use it simultaneously on as many as five supported devices, regardless of the platform. I contacted ExpressVPN's live chat while I was looking for this information on their site, and they confirmed to me that I can use their service on a wide range of devices:
Devices – Windows, Android, Mac, iOS, Linux, Routers, Chromebook, Kindle Fire, Nook
Browser Extensions – Chrome, Firefox
Consoles and Smart TVs – Playstation, Apple TV, Xbox, Amazon Fire Stick TV, Nintendo Switch, Samsung Smart TV, all game consoles, and smart TVs.
Why should you use extra products for protection with ExpressVPN?
There are numerous reasons to protect more than one device, such as comprehensive security and smooth streaming on all your devices. If you need to protect more than five devices, you have two options: Either buy an additional subscription or just set up ExpressVPN for your router.
If you're going to use this VPN with a router, then you can protect numerous devices more efficiently and eliminate the need to install your VPN app on every device. This makes using the VPN for your router the more productive option since you can protect game consoles and smart TVs (everything that's on your Wi-Fi network) just by securing your router alone.
As I'm finding out with many things on ExpressVPN, securing your router takes only a few, quick steps:
Buy your initial subscription.
Choose your VPN router.
Choose your router model.
In no time at all, you'll have secured your entire Wi-Fi network and numerous devices with only one VPN for your router.
Express VPN supports TOR and Torrents
As someone who wants the securest connection available to me, I naturally wanted to find out if ExpressVPN supported Tor networks and torrenting. After scouring their website, I was pleased to read that they indeed do. It works great for torrenting, that's why ExpressVPN landed one of the top spots for our best VPN for torrenting list. Using ExpressVPN with Tor gives you the strongest security possible. You get the anonymity of Tor along with the encryption of VPN.
Stable and fast when torrenting on the internet
The end result is an airtight connection where even your VPN won't be able to see what you're doing inside the Tor network.
It's important to remember that you first have to connect to ExpressVPN and then to Tor to make this work. Using a Tor can slow down your connection speed, but if you live in a country with an oppressive government that's watching your every move, it's essential to have this as an option.
Torrenting is great if you want to download and share big files efficiently and quickly. Unfortunately, without a VPN, your IP address, location, and metadata will be exposed to prying eyes.
ExpressVPN works with uTorrent, one of the most used torrenting clients around, to make sure that your file-sharing activity will never be traced back to you. A live chat agent on the site confirmed to me that ExpressVPN allows file-sharing traffic from their servers.
The customer support of ExpressVPN is amazing
Good customer support is integral to any service that you buy. Aside from the tech considerations, it's one of the strongest factors that can influence whether or not to go with a specific VPN. After all, if you're not tech-savvy and you're struggling to make your VPN work properly, then you want to have someone available 24/7 to help you out (and make sure your information stays protected all the time). Customer support is definitely one of ExpressVPN's most helpful offerings. First of all, their live chat is open 24/7.
I contacted them and asked a series of questions about their features. They gave me clear answers and were very responsive.
Another way their customer support comes through for you is with their many self-help guides available right on their website. If you don't want to wait around for an agent, then this is your best bet. You can also reach out to their email support or file a support ticket.
Any way you cut it, I found that ExpressVPN has knowledgeable, helpful agents and resources on their website that make it easy for you to get the answers you need to properly use their VPN and stay protected.
Where is ExpressVPN located in the world?
ExpressVPN is located in the British Virgin Islands, as I was able to confirm from one of their live chat agents. The BVI is a collection of self-governing islands in the Caribbean. Perhaps best of all, from a data-privacy standpoint, they're not part of the so-called 14 Eyes or the SIGINT Seniors Europe. These 14 countries share intelligence data with one another, so being outside this reach of coordination is helpful in protecting your privacy.
The good thing about being located in the BVI is:
There are no data-retention laws in their jurisdiction.
The only time a BVI company can be forced to reveal information in an investigation is by an order of their high court (outside countries can't compel a BVI company to reveal anything).
There are many hoops investigators have to jump through to successfully convince a court to force a BVI company to reveal information.
From what I can tell, having a VPN based in the BVI is a major plus to keeping your identity and data safe.
Dedicated IP address possible with ExpressVPN?
ExpressVPN does not offer dedicated IP addresses. They do not do this because their average user does not need a dedicated IP. The most common reason to use a dedicated IP address is to access Netflix. But ExpressVPN already provides access to Netflix with their normal subscription, so most ExpressVPN users don't need a dedicated IP address at all.
However, there is another reason to use a dedicated IP address. This is because some websites ask for extra identification when you keep requesting access to their website from a new IP address. If you want to avoid this extra identification you need a dedicated IP address, because your IP address will always remain the same. If you want a dedicated IP address for this reason, look for VPN services with dedicated IP addresses, such as NordVPN.
Logging Policy
This VPN is committed to your privacy, which is why they have a strict, no-logging policy. They'll never collect your:
IP addresses
Browsing history
Traffic destination or metadata
DNS queries
They also never collect any activity or connection logs.
A VPN will always have to collect some information, though. It's good to know that ExpressVPN values customers to such an extent that they're always open about what they take. When they do collect some of your data, they'll always let you know.
They collect:
Apps you've activated
Only the dates you've connected to the VPN
VPN server locations
Total MBs of data transfers
They'll only store the least amount of information about you that they need in order to run a reliable VPN service.
Encryption Standards
You never want third parties like your ISP or Wi-Fi operators intercepting your sensitive data when it's traveling from your computer to VPN servers. To make sure this never happens, ExpressVPN uses 256-bit AES (Advanced Encryption Standard). The U.S. government and security experts around the globe use AES-256, so you can be confident that your own data will always stay confidential. Even brute-force attacks on AES-256 are improbable.
Protocols
Protecting your data involves more than choosing a high-quality VPN. The VPN protocol is equally important since this is how the VPN secures data transfers. It can get quite complicated to figure out which protocol is most secure. Luckily, ExpressVPN makes this selection a cinch by letting you know which protocol is the best.
For added security, ExpressVPN's tunneling protocols—methods your device uses to connect to a VPN server—go beyond the default (and most secure) OpenVPN. You can let ExpressVPN automatically choose the best protocol for you.
ExpressVPN also supports SSTP, L2TP/IPsec, and PPTP protocols. The OpenVPN UDP/TCP option is the best combination of security and speed.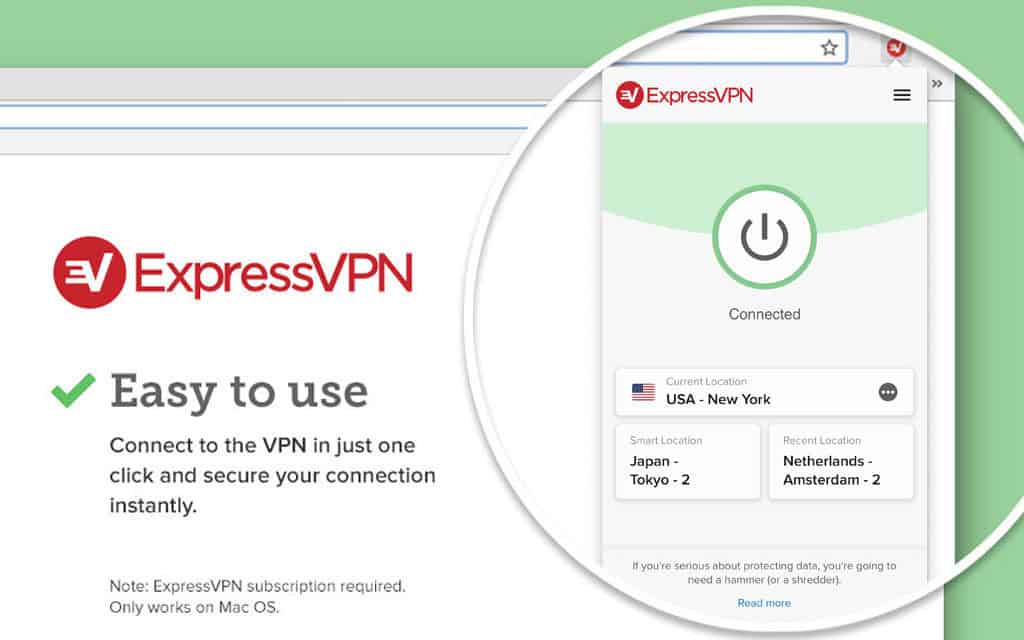 ExpressVPN Cons
Netflix Has Connection Issues in Quite a Few Locations. No review would be complete without examining one of the most popular reasons for using a VPN: Does it work with Netflix Technically, it does work, but you have to find a specific server that doesn't get blocked, which means a bit of trial and error. The following servers worked great in our tests, though there were issues with a lot of U.S. servers:
Americas
United States (only 6 out of 30 servers worked)
Canada
Brazil
Colombia
Bahamas
Europe
United Kingdom (5 servers)
Switzerland
Italy
Sweden
Monaco
Asia Pacific
Hong Kong
Japan
Australia
Middle East & Africa
Keep in mind, that Netflix works really hard to get VPN IPs banned, so the more known VPN providers will definitely have more servers banned than the more unknown ones. ExpressVPN is still one of your best options to stream Netflix.
ExpressVPN Pricing & Payment Options
Price is always a significant factor when deciding on a VPN. ExpressVPN makes this very clear: They're a premium VPN, so that's reflected in their pricing. You'll have to decide if paying a little extra is worth it for their top-notch security and good reputation.
Subscriptions of Express VPN
ExpressVPN features various subscription plans:
Monthly: $12.95
6-month plan: $9.99 per month
15-month plan: $6.67 per month
The longer your subscription, the cheaper it gets.That's not to say that this is a low-cost VPN. If you compare them to free VPNs, this may seem a bit steep, but when you consider all of their features (servers) and performance (fast speeds), you can see why ExpressVPN charges what they do.
Payment Options
ExpressVPN makes it easy to pay for their services. You can pay for your subscription in a number of ways, with all major credit cards being accepted. There are also alternative ways of payment, such as PayPal and Bitcoin, if that's more convenient for you. To pay, simply select your plan, input your email address, and choose your preferred payment method.
Money-Back Guarantee
You'll be pleased to know that there's a 30-day refund guarantee for any subscription plan. This means you can try their service risk-free. If you change your mind for any reason after 30 days, you'll get your money back, no questions asked. Getting your money back is as easy as contacting ExpressVPN's support team.
Free Trial for ExpressVPN
Unfortunately, because they're a premium VPN, there's no free trial offered. There is a free trial for some mobile devices, however. Any mobile device in countries that can access the Google Play (Android) / App Store (iOS) can receive a free 7-day trial once they download the app. Taking everything about ExpressVPN's pricing into consideration, it can definitely come across as a con. You do get what you pay for, but there are other VPNs we rate higher than them, and they're not as expensive. At the end of the day, ExpressVPN is still very expensive compared to many other VPNs.
Do We Recommend ExpressVPN?
Yes, I recommend ExpressVPN. It's easy to see why ExpressVPN is so widely used – not least for its amazing speeds. It has so much more to offer, including the highest level of encryption, a huge global network, advanced split tunneling, and impressive unblocking capabilities. As far as VPNs go, they are hard to beat. Their security is top-notch, and they make it easy for you to protect as many devices as you want while not sacrificing speed. While it is a premium service, as the pricing reflects, they offer a large number of servers spread across various regions of the world. Their customer service and support of Tor and torrenting are commendable. It's worth your money, which is why I recommend them.
Its security is second to none, and this really makes ExpressVPN stand out. From its strict zero-logging policy to its TrustedServer technology, ExpressVPN is clearly committed to protecting your security and guaranteeing your anonymity and privacy online.
ExpressVPN easily unblocks all major Netflix libraries and KODI wherever you are.
ExpressVPN is complex in features and functions, but it keeps its app simple and easy to use. This makes it ideal for a VPN newbie through to an advanced user like myself.
Sure, there are ways in which ExpressVPN can improve, starting with a built-in ad blocker and adding the Network Lock feature to Mac iOS.
Even though ExpressVPN is a bit more expensive than the average VPN, you get value for your money. It's not without reason that ExpressVPN regularly tops VPN comparators. For the product they provide, they charge a reasonable price.
How does ExpressVPN compare to other VPNs?
In addition to the individual scores of VPN providers on speed, security, servers and ease of use, we also looked at how ExpressVPN does in comparison to CyberGhost VPN, Nord VPN and Surfshark VPN. Not surprisingly, ExpressVPN scores the best of all of them. Especially on security, ease of use and level of privacy, ExpressVPN is a true winner. Check out the articles below to read more about how ExpressVPN fares against the other VPN providers: