IPVanish (2022) Review + Guide
Are you looking for a new IPVanish VPN review? That's logical, the last couple of years these services have gained enormous popularity, almost 30% of the internet users has been using VPN services over the past 5 years. We at Globalwatchonline.com tested and tried all different providers for you, read our comprehensive IPVanish VPN review and learn everything about this service, we are sure that once you're done reading you will know if this provider suits you.
Who and what is IPVanish?
US-based VPN provider IPVanish claims to be "The World's Best VPN Service". While they have an abundance of endorsements and sponsorships and offer an admittedly feature-rich product, the question remains, is this well known provider still one of the VPN providers you should choose?
In this review, I'll be providing you with a detailed answer to that question. I will be taking an unbiased look at IPVanish, analyzing everything from the company's background, services, features, pricing, and more.
Let's get started. Founded in 1999 under the umbrella of Mudhook Marketing (located in US, Florida), IP Vanish has quickly earned a reputation as one of the top VPN providers in the marketplace. 1,300+ servers (and counting) across more than 75 different countries (primarily located in Europe and North America).
Their VPN services are compatible with nearly every device and OS imaginable and they have dedicated apps for Windows, Mac OS VPN, Android, Fire TV and IOS. For the more tech-savvy users, they also allow customers to manually setup an IPVanish configuration on Window's phones, Ubuntu, ChromeBook, and your routers. IPVanish also supports all major VPN protocols and even allows users access to the download-free SOCKS5 web proxy.
What are the advantages and pro's?
Dedicated Apps for all platforms
Does not keep logs
256-bit encryption
Huge list of 75 countries
Shared-VPN connections to make traffic untraceable
Lots of protocol choice
The speeds of IPVanish servers
I ran a few speed test on the IPVanish servers and here is what I came up with (I'm using 100 Mbps Internet connection within EU). If you are looking for the most fast VPN in the world, read this guide.
US Server (New York)
Ping: 133ms
Download: 34.71 Mbps
Upload: 24.72 Mbps
EU Server (Amsterdam)
Ping: 38ms
Download: 82.67 Mbps
Upload: 43.19 Mbps
Asia Server (Hong Kong)
Ping: 341ms
Download: 7.61 Mbps
Upload: 5.88 Mbps
UK Server (London)
Ping: 56ms
Download: 80.25 Mbps
Upload: 42.09 Mbps
IPVanish offers respectable download and upload speeds. When connected from EU to EU they only throttled my speed by 18%. However, it's hard to justify the cost of their service when you compare the US speeds that they offer with the speeds of other, less expensive services. For example, the download speeds of IPVanish (on the U.S. based servers) were slower than NordVPN and SaferVPN (read review), which both cost less than $4/month.
Decent Working App
Installing their app was a pretty smooth straightforward process (although, annoyingly, I had to restart my computer afterward). Upon launching the software, it was instantly apparent that IPVanish offers an intuitive and easy-to-use interface. They now also offer a kill switch for Windows and Mac users. They make it easy for you to find everything you need and give you a plethora of settings and options to toy around with.
IPVanish usability
The only complaint I have with their interface is that they offer no instructions on setting up and using the SOCKS5 proxy from the account portal.
IPVanish SOCKS5 Proxy
While this isn't a huge deal and can easily be resolved with a quick Google search (or by reviewing IPVanish's article on the topic), with the SOCKS5 proxy being such a huge selling point, you would think that they would streamline the setup process as much as possible.
No Traffic Logs
If you read through the fine print in the privacy policy of many VPN services, you might be shocked to realize that their advertised "Anonymous Browsing Experience" isn't so anonymous after all.
In fact, if you choose the wrong provider, your personal data and information could be stored on one of the company's internal servers and the privacy policy (which you agreed to) gives them the rights to use that data for a whatever purposes they see fit.
Unfortunately, we have mixed feelings about IPVanish's "no logs" policy. They've been in the news in the past for logging and handing over data for a user to Homeland Security, despite claiming that they keep no logs.
That doesn't give users who use their service full trust in them. This happened in 2016, though. They've since been taken over by a new company, called StackPath, that promises full assurance of privacy and security.
We have a strict policy against the collection of both connection and activity logs. We will never store the metadata about your VPN session or information about how you used the service. So while you are never truly anonymous online, IPVanish is one of the few VPNs that gets you about as close to total anonymity as possible.
Strong Encryption (AES-256)
IPVanish relies on the same encryption protocol, AES-256, that is used by many of the world's leading security agencies and government organizations. With the rapidly increasing number of brute force cyber attacks, this is a huge plus. In December of 2016, WordFence, a WordPress security plugin, noticed a dramatic increase in the number of brute force attacks being executed against WordPress websites (which power more than 25% of the internet).
In fact, things got so bad that, at one point, there were more than 30,000 unique attacking IPs per day! While this statistic should serve as a wakeup call to many website owners, it also should not be a cause for alarm.
By surfing the web with an AES-256 encrypted VPN (like IPVanish) your IP address and all personal data will be protected from hackers to the point that your data is virtually Brute Force Proof. That also means that you can get around IP specific censorship leveraged by schools, employers, and governments.
Download Free SOCKS5 Web Proxy
Like most VPN providers, IPVanish allows users access to several different protocols including the default OpenVPN as well as PPTP, and L2TP. While OpenVPN's are generally the recommended protocol since they offer fast speeds that don't sacrifice privacy or security, they do come with a downside.
That downside is that you have to download a client directly to your device in order to access the unique certificate required to establish a secure connection. Luckily, there is an alternative.
IPVanish gives their customers access to a special proxy server protocol known as SOCKS or Socket Security. This protocol allows you to enjoy the same benefits of a standard VPN without having to download any software to any of your devices. This means that you can hide your IP address, hide personal information, and enjoy faster performance all without downloading an intrusive third-party tool.
While this provides a huge service to certain customers (especially individuals looking to circumvent censorship laws or other IP-related restrictions), it should be noted that the speed and download-free surfing comes at a cost.
The reason a SOCKS proxy is able to achieve faster speeds than a traditional VPN is that it doesn't use the same encryption standards. In other words, it doesn't offer the same privacy and security protocols that prevent hackers, cyber-criminals, and governments from accessing your personal information.
While the proxy does an admiral job of obfuscating your location, it does little-to-no good when it comes to protecting your privacy and security. Even though this is a "Pro" for IPVanish and certainly a unique protocol to offer, be cautious and educate yourself about the SOCKS proxy before taking advantage of this feature.
Torrenting is Allowed
With IPVanish, not only is torrenting (P2P) allowed. It's blatantly encouraged. Unlike many VPN providers, IPVanish has no qualms about customers using their service to Torrent freely and privately. Their carefree attitude towards torrenting might anger some anti-piracy advocates, however, for the average VPN user, this feature is a major bonus. If you are looking for the perfect VPN for torrenting, this brand is the perfect partner.
Ten Device Connection Limit
One of my favorite "Features" of IPVanish is that they allow you to simultaneously connect up to 10 devices. Most VPN services, including premium companies like ExpressVPN, limit your simultaneous connections to 3 devices. This might not seem like a big deal to some of you, however, for those of you with family members or spouses, buying a second license can be a huge frustration and unwanted expense.
However, with IPVanish's generous 10-device limit, you, your spouse, and even your kids can browse safely and securely, all at the same time.
Some Servers Unblock Netflix
IPVanish doesn't specifically state on their site if they'll work with Netflix or not. Most VPN providers have begun steering clear of official statements over the past few years, because the video-streaming giant now employs one of the most sophisticated VPN-detection systems to date.
But regardless of their official stance, we still test them. We connect to different country servers, fire up Netflix, and try to stream something. Anything! Results didn't start out well with IPVanish because the first three servers we tried didn't work:
Canada
United Kingdom
Netherlands
However, the fourth time was the charm! We connected to a U.S. server in Chicago and were able to bypass detection with the United States: Chicago server. The only issue was that the server lagged a bit. So if you need a VPN that works with Netflix, read this.
TOR Compatibility
TOR or The Orion Network is a network that encrypts and relays your traffic information across several servers ensuring that it is difficult (read: impossible) to track your real-time location.
For those of you who need serious security measures to fight against government surveillance or censorship laws, TOR allows you to create a second layer of security with an existing VPN to maximize your privacy and ensure that your location and identity remains private.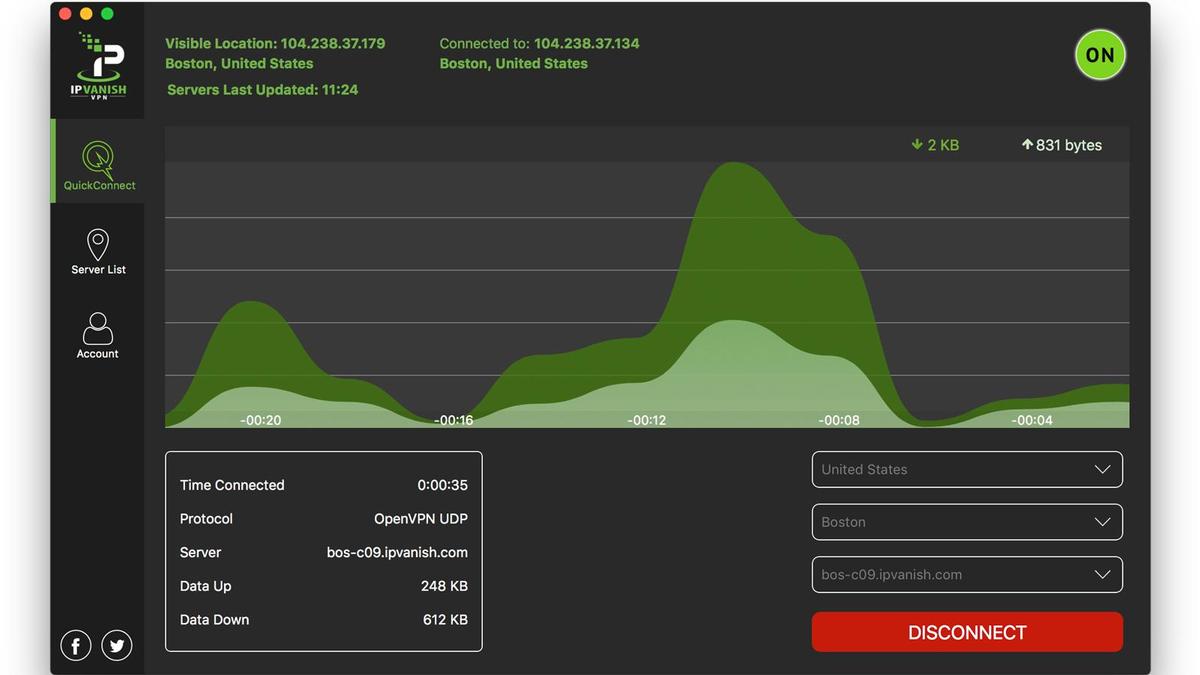 IPVanish Cons
One of the greatest annoyances when using a VPN is that the industry's customer service is notoriously unreliable. Sadly, IPVanish propagates this stereotype… and then some. While their advertisements and marketing promise that users will have access to 24/7/365 support – it's just not true.For starters, they don't even have a live chat option (which makes me wonder how in the world they thought that they could advertise 24/7 live support?)
This means that if you ever did need to get instant help, you wouldn't be able to. And when you do send in a support ticket, you don't receive an immediate (or even remotely fast) response. To fully understand how their support works I submitted 1 simple question and here's (auto) their response:
IPVanish support
1-2 days to reply? So much for 24/7/365 support. In fact, after submitting my support ticket Friday afternoon, I didn't receive a full reply from the support team until Monday. That's more than 60 hours of time during which I received no support. Certainly not a plus in my book. Although they do have support center and knowledge base which is quite helpful, it doesn't pardon the fact that they blatantly lie in their advertising and provide you with customer service that is a far cry from what you expect going in.
Do you think that you might be in need of instant support for your VPN service?
Then don't bother with IPVanish… unless your definition of "instant" is 48 hours+.
IPVanish Pricing
One of the great things about IPVanish is that they don't dilute their services by offering the traditional "Tiered Packages". There is no "IPVanish Bronze" or "IPVanish Platinum". Instead, every customer receives exactly the same service with the only difference being the length of time for which they have access to that service.
Pricing tiers for IPVanish VPN
Since I've never actually seen them offering their services for $11.99 a month, I will just chalk the advertised "17%/month savings" up to clever marketing and say that this plan is the equivalent of:
$7.50 per month
$90 per year
I have, however, seen them offer this monthly service for $10 per month. It's good to see that them offer this 25% discount off their former pricing. We hope that it sticks around. Unlike most VPN providers (and much to our surprise), IPVanish does not offer the traditional 6-month pricing option. In its place they offer a quarterly 3-month pricing plan billed four times per year at $20.24.
This boils down to:
$6.75 per month
$81 per year
Most VPN providers tier their costs, meanin the more time you commit for the lower the monthly price comes out to. Anyone looking for the best deal possible on IPVanish would want to opt for their one year commitment.
At only $58.49, the plan equates to:
$4.87 per month
$58.49 per year
IPVanish also offers a 7-day money back guarantee on every plan and allow you to pay with just about any method you desire (including credit card, PayPal and even bitcoin for anonymous payments).
IPVanish payment methods
While these prices are nowhere near as expensive as some of their more premium competitors (I'm looking at you ExpressVPN), they are still a far cry from "Budget Friendly".
This fact is painfully illustrated when you take a look at the pricing plans offered by PIA and many other cheaper VPNs; you'll quickly realize that you can find other high-quality VPN providers for less than half the price of IPVanish.
I do appreciate the all-inclusive pricing and love the simplicity of their offer, but frankly, I think that IPVanish is doing their company and their clients a disservice by not offering a steeper discount on their yearly plan. However, for you to truly determine whether or not IPVanish is worth the investment, you first need to know what you get in return for your investment.
Do We Recommend IPVanish?
The answer is… It depends on what you are looking for. IPVanish provides a reliable service at a reasonable price and while it doesn't offer anything groundbreaking or truly exceptional, it does offer several features (like the SOCKS5 protocol) that make it appealing to a certain demographic of VPN users.
However, for most VPN buyers, I would be hard-pressed to recommend IPVanish (if for no other reason) due to the quality of their competition. IPVanish isn't a bad VPN, but the shoddy customer service, compatibility issues, and the simple fact that you can find better offers for cheaper like NordVPN, Surfshark or Cyberghost.
IPVanish offers almost everything you need, including excellent encryption, a wide choice of server locations and thousands of IP addresses. The ability to switch between IP addresses whenever you want is a very nice feature that works well.
The price is fine, especially at the time of discount offers, but it's definately not cheap. We recommend this VPN provider for anyone who wants to bypass online restrictions or limitations of a country. For people who want to improve their online privacy or hide their browsing and downloading habits, we recommend other VPN providers.
Fast top-class provider
No artificial limits on connection speed
Unlimited bandwidth (no data limits)
Easy to use software (works with Windows, MacOSx, Ubuntu Linux, iOS, Android, Windows Phone, Chomebooks and routers)
Unlimited switching between different IP addresses and servers
40,000+ shared IP addresses on 1500+ VPN servers in 75+ countries