PureVPN (2022) Review guide
Are you looking for a new PureVPN review? That's logical, the last couple of years these services have gained enormous popularity, almost 30% of the internet users has been using VPN services over the past 5 years. We at Globalwatchonline.com tested and tried all different providers for you, read our comprehensive PureVPN review and learn everything about this service, we are sure that once you're done reading you will know if this provider suits you.
Who and what is PureVPN?
Founded in 2006 by their parent company GZ Systems, PureVPN is one of the oldest and largest VPN providers on the market. From their humble 2-server beginnings, PureVPN has quickly expanded their operation and they now boast more than 2,000 servers across 180 different countries.
Their services are compatible with all major devices including: Windows, Android ,Mac, iOS and Linux. If you are particularly keen on optimizing your online protection, you can even set PureVPN up to work with your routers, smart TVs, browsers like Chrome and Firefox and streaming services (like Roku, Amazon Fire, and Chromecast).
They've recently introduced a 'virtual router' feature for Windows devices, which means you can empower a Windows desktop or laptop with 'router'-like features to connect up to 10 different devices.
Some VPN services, like VyprVPN for example, will only limit you to two different simultaneous connections. So the fact that you can connect PureVPN to a real router, in addition to setting up a 'virtual router,' means you can connect TONS of different devices like VPN routers.
PureVPN is known to be very solid, has fast servers and you can watch Netflix with this VPN. You can also use PureVPN to bypass restrictions on the Internet, such as censorship in countries like China, Turkey or Russia. And it is possible with PureVPN to download series and movies completely anonymously via torrents.
What are the advantages and pro's?
6,500 servers in 140 countries
Cross-platform support
Security features include split tunneling and Ozone
31-day money-back guarantee
Open VPN, PPTP, L2TP, IKEv2 and SSTP connections and 256-bit encryption
Unlimited bandwidth and server switches
Censorship bypassing, privacy/security, P2P, dedicated IP (for $1.99 extra per month)
1Gbps connection speed
Up to 10 simultaneous connections on one account
Advanced features: Port forwaring, NAT / non-NAT, Split tunneling
Supports All Major Protocols You Can Imagine
Man-in-the-middle' (MiTM) attacks are some of the oldest (and most common) ways that hackers gain access to your sensitive information. You might not even sense that anything is wrong. But somehow, someway, someone has placed themselves between you and your intended connection (like a browser or a website).
They can then read your emails, see what websites you're going to, grab your session cookies to fool different websites into thinking they're you, and even get personal information or passwords.
Many times the very tools used to help intercept these practices, like WiFi Pineapple, can be used to perform them by anyone, anywhere. Like, sitting in your local coffee shop for instance. Now, browsing emails or booking a flight while sipping a latte can turn out to be not such a relaxing afternoon after all.
This potential risk now extends to mobile devices, apps, and even your smart devices too. To combat these problems, PureVPN offers all major protocols, including OpenVPN, L2TP/IPSec, PPTP, SSTP, and even IKEv2. While OpenVPN is your best bet to get both benefits from security and speed, you might also need to choose L2TP/IPSec based on device availability or PPTP (in only a few certain cases where you're not as worried about security vulnerabilities).
Industry Standard256-bit Encryption With PureVPN
Brute force attacks are another unfortunately common practice. Hackers eventually figure out your passwords and pin numbers through a series of repetitive, lightning-fast, trial-and-error combinations. They're one of the oldest tricks in the book (besides simply guessing your spouse's birthday or kid's name).
And they're actually increasing. For example, a recent wide-spread attack on WordPress sites has been directed by a Russian company being used by the country to launch cyber attacks (you can't make this stuff up).
The best form of defense in this case, is prevention. That comes in the form of 256-bit encryption, which is one of the most secure connections possible. It is so secure that it is used by government agencies around the world.
Your encrypted tunnel gets sealed shut so that third-party sites, ISPs, and nefarious, shadowy organizations worthy of being the next Bond villain, can't see what you're up to. In addition, your privacy and anonymity is completely safe thanks to their 'end-to-end' connection. This includes when you switch from one IP to another (or another, or another) across PureVPN's 80,000+ options.
The Best Features of PureVPN
One of the things that I really liked about PureVPN is just how many features and options they offer their users. For starters, they offer a kill switch, five simultaneous connections, support for all major protocols, DDoS protection, advanced port forwarding, split tunneling, and a NAT Firewall.
In fact, they provide such a plethora of ways to optimize and customize your VPN experience that it would make even the best VPN blush. Unfortunately, while these services are great in theory they have some functionality issues that need to be worked out.
I personally experienced a killswitch failure and, after reviewing a number of forums and third-party reviews, realized that almost every customer has experienced some type of issue here or there with some of the features that PureVPN offers.
Unrestricted Torrenting
PureVPN is a solid pro torrenting VPN. Why's that noteworthy? Because ever since copyright infringement lawsuits have began flooding the marketplace, more and more VPNs are shying away from P2P servers. Often, the ones who do still offer torrenting-friendly servers only allow it on a small handful of offerings. But PureVPN doesn't have these restrictions. You're free to use torrenting on any of their servers. So download away!
Quick Live Chat Support with OK responses
When dealing with a VPN, your security is on the line. As such, you want to ensure that your questions and concerns can be addressed quickly and efficiently through a responsive customer support department. When we first reviewed PureVPN, we were not happy with their support. While it offered live chat functionality, all of the responses seemed to be auto generated.
However, PureVPN responded well to criticism and came back with a responsive and quick live chat system that directly addressed the questions I asked in under a minute.
I started off with a simple two-question approach. I wanted to know if users are able to utilize the TOR network, and I wanted to know what was being done to prevent DNS leaks. They responded quickly, but it felt like a typical form response.
Quick response on some hard questions
What followed the greeting was another answer that seemed to be a copy paste job. However, once I clarified my questions, I received a much better answer. The responded with a simple statement regarding the TOR network, and I re-clarified that I had asked a second question.
They responded to that with a link that allows users to test for DNS leaks. They didn't go into specifics on how these issues were addressed, but the answer came quickly and it was helpful. I gave them definite props for that, especially when one considers where this service once was in terms of customer service.
2 out of 4 Netflix Servers Worked Well On PureVPN
PureVPN claims to work with Netflix. That's actually a bigger deal than you might think. Netflix and VPNs have been at war for a few years. Whereas once users could utilize a VPN's tunneling service to access geo-blocked Netflix content from other countries, the streaming service eventually caught onto this and unleashed a blocking system that stops most VPNs cold. When we tested a select number of PureVPN's servers with Netflix, we had a 50% success rate, which is huge!
Here are the four PureVPN servers that we connected to before checking Netflix:
United States: WORKED
Canada: WORKED
United Kingdom: BLOCKED
Netherlands: NO NL SERVER
Most VPNs out there can't get any Netflix functionality, so the fact that we got two out of four to play Netflix content even almost places PureVPN on our Netflix-friendly VPN list. That's a huge feather in the cap of this service. It also seems to be working very well for other services like a VPN for Kodi and belongs to one of the best vpn providers in 2021 for these subjects.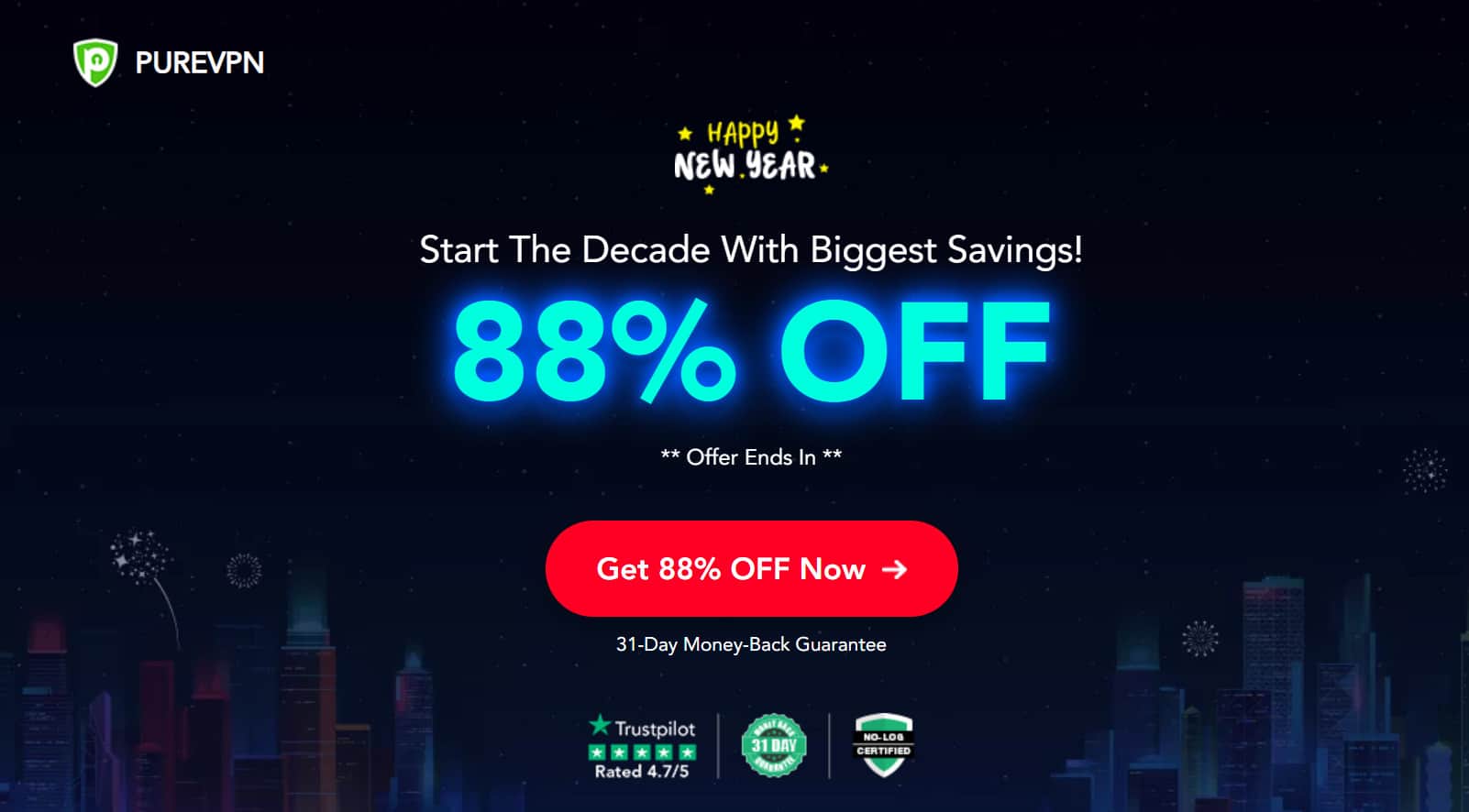 PureVPN Cons
PureVPN is an affordable service, they have some cool features, and a great selection of servers. But there are a number of issues that potential users must take into account before they entrust this service with their internet security.
Download speed of PureVPN
Here's a speed test I ran on speedtest.net to ensure the accuracy of this review. I then connected to PureVPN and ran these tests once more. Here are our results to see if it belongs to the fastest vpn's in 2021:
US Server (New York)
Ping: 125ms
Download: 29.41 Mbps
Upload: 29.06 Mbps
EU Server (Amsterdam)
Ping: 40ms
Download: 35.49 Mbps
Upload: 27.29 Mbps
Asia Server (Hong Kong)
Ping: 355ms
Download: 6.77 Mbps
Upload: 3.62 Mbps
UK Server (London)
Ping: 53ms
Download: 62.48 Mbps
Upload: 45.90 Mbps
Their Amsterdam server (the fastest that I could find) only topped out at 35 Mbps out of 100, which is not great. That's troubling when you consider that their top competitor, PIA, offers servers with more than double the download speed at a very similar price.
Costs, Plans, and Payment Options Of PureVPN
The first, and most noticeable 'pro' about using PureVPN is the price tag. They're still one of the cheapest VPNs on the market and offer a phenomenal price for customers on their 1-year plan. Here's how it all breaks down.
Month-to-Month Plan
$10.95 per month
0% Savings
3 Months Plan
$8.00 per month
27% Savings
One Year Plan
$3.33 per month
70% Savings
They also allow customers to purchase their service with almost every payment method imaginable (even Target gift cards). It's nice to see untraceable crypto currencies listed as a payment option.
This will allow users to pay with an untraceable online only form of currency. That's a huge plus for VPN users who want to remain hidden. In addition to their budget-friendly pricing and wide array of payment options, all of their purchases come with a 31-day money-back guarantee.
Do We recommend PureVPN?
Unfortunately, I can't recommend this service over many of the others that we've reviewed. Although it is a highly-customizable VPN with an impressive set of features at a low cost. PureVPN is easy to use, but disappointing overall.
Although it's well priced, its app caused significant problems with my device. This provider is also tough to talk to directly and did not deliver the level of customer support I expect from premium VPNs. Their representative didn't read my question properly and worse still, chose to send me a link to an article rather than answering.
The fact that session logs are kept is a downside that we judge PureVPN quite heavily on. Hence the low score for security; logging poses privacy risks!
PureVPN offers an admittedly affordable service with a wide server selection. Their customer service department gave me a positive experience and it had a 50% success rate with Netflix. These are all great things that a VPN should strive to achieve, but other providers such as Express VPN, Surf Shark and Nord VPN simply do a better job for the price because PureVPN certainly is not one of the cheapest vpn's either.
Does PureVPN Have an Ad Blocker?
Yes, PureVPN's app includes a built-in ad blocker.
Does PureVPN Work in China?
Yes, PureVPN is able to bypass China's firewall and VPN blocks. It also operates servers in China for high-speed access to local websites.
Does PureVPN Have a Free Version?
PureVPN doesn't offer a free trial. It does offer a well-priced, 3-day paid trial, though.
PureVPN's Refund Policy
PureVPN offers a 31-day, money-back guarantee.
Is PureVPN Compatible with My Device?
You can connect up to 10 devices simultaneously with PureVPN. There are apps available for all devices, including Smart TVs and gaming consoles.