VyprVPN (2022) Review + Guide
Are you looking for a new VyprVPN review? That's logical, the last couple of years these services have gained enormous popularity, almost 30% of the internet users has been using VPN services over the past 5 years. We at Globalwatchonline.com tested and tried all different providers for you, read our comprehensive VyprVPN review and learn everything about this service, we are sure that once you're done reading you will know if this provider suits you.
Who and what is VyprVPN?
VyprVPN is a popular VPN service created by Switzerland-based Golden Frog. This VPN has worked hard to establish itself as a trusted provider and advocate of internet privacy. The provider has also been taking steps to improve its reliability, security, and quality of service based on customer requests.
However, does VyprVPN really make the cut? Here's a preview: when it comes to privacy, geoblocking, and price, VyprVPN makes the cut. It can unblock Netflix, BBC iPlayer and Hulu, but where it falters is speed (read on for specifics). Speedier VPNs like ExpressVPN could be a better choice for streaming and P2P sites.
Switzerland based company Golden Frog (the parent company of VyprVPN) has been an integral player in the fight for online privacy since the inception of the internet. According to their website, the company was founded in response to the Room 641a incident where the NSA was illegally surveilling citizens by tapping the AT&T network cables.
Allegedly, Golden Frog filed a formal complaint with the FCC to try and expose the issue to the public, but was ignored. So they decided to take matters into their own hands. Lead by Ron and Carolyn Yokubaitis (relatives), Golden Frog and their 20+ employees have been on the frontlines of the battle for internet privacy in recent years and have built a strong reputation as one of the best VPN providers on the web.
What are the advantages and pro's?
Apps for all major platforms
Fast speeds with 700+ servers in over 70 locations
Bypasses the great firewall of China
Unblocks 45+ streaming libraries — including US Netflix
Unlimited bandwidth and server switching
Up to 5 simultaneous connections
30-day money-back guarantee
Logging policy
With such a long and rich history of fighting for internet security and individual privacy rights, you would imagine that VyprVPN would provide a strict "Zero Logs" policy. Initially, this wasn't quite the case. VyprVPN used to keep the following information for 30 days after your last session:
VyprVPN IP address used by the user
Connection start and stop time
Total number of bytes used
However, when we checked their policy again in March 2019 we found that they had changed their approach and we can now confirm that they truly keep no logs. It's also important to consider that, even though Switzerland resides outside of the five, nine, and fourteen eyes countries, their data retention laws and internet privacy policies aren't as favorable as many people claim and they could pose as a potential issue for some users.
Is VyprVPN Fast?
With a download speed of 74.48 Mbps VyprVPN slowed my connection by a little bit less than 24% which is more than acceptable. However, some of their other servers didn't fare quite as well and they certainly don't belong to the most fast VPN providers in 2021.
US Server (New York)
Ping: 131ms
Download: 51.09 Mbps
Upload: 3.17 Mbps
EU Server (Amsterdam)
Ping: 42ms
Download: 74.48 Mbps
Upload: 35.88 Mbps
Asia Server (Hong Kong)
Ping: 355ms
Download: 54.29 Mbps
Upload: 8.22 Mbps
UK Server (London)
Ping: 53ms
Download: 70.46 Mbps
Upload: 37.47 Mbps
VyprVPN server speed is allright
As you can see, VyprVPN's EU servers are highly optimized and provide their users with rapid download and upload speeds. Their U.S. servers, on the other hand, leave something to be desired. Although VyprVPN performs just as well as it always has, there have been a number of new additions to the VPN marketplace that have knocked VyprVPN out of the ranking for the fastest VPNs.
The lackluster speeds of their U.S. servers have caused VyprVPN to drop from the 4th fastest VPN down to the 18th (which is a far fall indeed). With companies like Private Tunnel and ExpressVPN performing considerably faster than VyprVPN, Golden Frog will have their work cut out for them in the coming months to bring their U.S. servers back up to par and compete with the other major players in the VPN marketplace.
Does VyprVPN Work with Netflix?
If you're buying a VPN to bypass geoblocks on popular streaming services like Netflix, VyprVPN is a great choice. The provider has been working on a big overhaul of their streaming service in an attempt to improve the VPN's access to popular streaming sites in different parts of the world. In fact, it offers support for 45+ streaming libraries giving you access to countless movies and TV shows. At the moment this is one of the best Netflix VPN's of the world.
VyprVPN's proprietary Chameleon™ technology prevents Deep Packet Inspection (DPI), which helps it escape geo-restrictions and VPN bans on popular streaming sites. We were able to access US Netflix on multiple servers without a problem. VyprVPN also gave us excellent speeds on the US servers, which is perfect for HD streaming. The VPN was also able to successfully access other popular US streaming sites like Hulu and Amazon Prime.
VyprVPN's UK server was able to access Netflix UK, ITV, Eurosport, and BBC iPlayer during our tests.
Its Canadian server allowed us to stream Netflix Canada, DAZN, MuchTV, and NHL.TV.
VyprVPN has made some recent upgrades to its German server. We were able to unblock Netflix Germany, DAZN, Eurosport, RTL, Sky Go Germany, ARD, ZDF, and Pro 7.
With other server locations, we had mostly positive results, but also found room for improvement. The majority of countries we tested were able to access Netflix, but some popular locations like France were caught by the VPN ban.
Is Torrenting Allowed?
Although VyprVPN and Golden Frog have kept fairly quiet regarding their opinion on P2P file sharing and torrenting, I was able to find the following statement on their help center. Heck, VyprVPN even allows their customers to use BitTorrent clients and claim that they don't actively monitor any of your network activity while using this VPN for torrenting in 2021.
When I dug a little deeper I found that many GoldenFrog clients were having their account suspended due to copyright infringement notices and the support team responded to these suspensions with the following statement.
So even though you can technically torrent files with VyprVPN it's important to note that if you break any copyright laws, you will likely have your account canceled or suspended (and unfortunately, there are no refunds).
What Devices Are Supported?
VyprVPN is compatible with all major devices including Android, iOS, Windows, Mac, and Linux. In addition to these basic devices, VyprVPN also allows you to anonymize your router, Apple TV, and Android TV. You can also use this provider in combination with a VPN router.
VyprVPN compatibility
At this time, it does not appear that VyprVPN offers browser extensions for Google Chrome, Safari, or Internet Explorer, but no one uses that anyways right. In addition, VyprVPN is not compatible with TOR (the Orion Router) or any other third party proxies so if you're looking to add an extra layer of anonymity and security to your VPN experience, you might need to look at some other providers, especially if you want to use this VPN for Kodi.
Is VyprVPN Easy To Use?
One of the areas where VyprVPN really shines is in its usability…
I've tested out dozens of VPNs and of the 70+ applications that I've used, VyprVPN is by far one of the simplest and smoothest to use.
After clicking a few buttons and agreeing to their Terms of Service, VyprVPN is instantly downloaded to your device and you're brought to their easy-to-use home interface.
From here, it's easy to access the settings menu and quickly change your connection, tunneling protocol, or DNS settings.
VyprVPN app settings
All in all, VyprVPN provides their customers with a simple and easy to use application that allows for effortless navigation and efficiency.
Servers & Additional Features
With more than 700+ servers spread across 70+ countries, VyprVPN offers their customers access to one of the largest networks and server parks that has ever been reviewed on this site. In addition to this impressive figure, they are also one of the few VPN companies that write and host their own servers and DNS.
This means that they own the ENTIRE network that you are using while connected to their VPN client and they are the only party who has any access to your private information.
Furthermore, they offer a fantastic killswitch feature which allows you to rest easy knowing that, even if you get disconnected from one of their servers (a problem I never encountered), all of your activities will be immediately shut down, preventing you or your information from being compromised.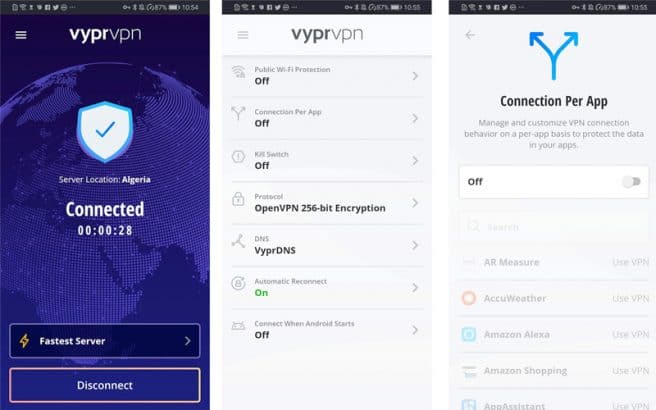 VyprVPN Customer Service
In the past, we have had complaints about VyprVPN's lack of live chat service and slow response times. However, we were pleased with the improvements that VyprVPN has made to their customer service.
You can now contact support through an email request form or their 24/7 live chat service. We had positive experiences with the VyprVPN customer support team on both platforms. Our email request through the website was answered within 20 minutes, and we got a response from the live chat service within several minutes. Both methods are responsive, polite, and helpful.
The VyprVPN website also provides some great resources to help with common issues. You can find an FAQ page, troubleshooting guides, set up tutorials, and some general information about VPNs and online privacy.
VyprVPN and WireGuard
WireGuard is one of the newest protocols in the VPN world and is now available on all VyprVPN apps. WireGuard is an open-source protocol that provides VPN users with the highest level of security and privacy as possible. It also helps to increase speeds. Its features include a much slimmer codebase – which mean VyprVPN apps are faster and more responsive. WireGuard also includes much stronger encryption. All the features of WireGuard equate to a faster, safer, and more reliable VPN.
VyprVPN pricing
Unlike most of the big name VPNs on the market, VyprVPN doesn't offer a "One Size Fits All" plan. Instead, they offer two different subscriptions, basic and premium, to buy a VyprVPN.
The Basic Plan
$60.00/year when you select the yearly plan ($5.00/mo)
$9.95/mo for a monthly subscription
3 simultaneous connections
Unlimited data usage
The Premium Plan
$80.00/year when billed annually ($6.67/mo)
$12.95/mo for a monthly subscription
5 simultaneous connections
VyprVPN Cloud Included
Chameleon Included
I'm not a fan of VPNs that offer basic vs. premium pricing plans but, for all intents and purposes, VyprVPN charges a fair price for their large server park, fast download speeds, and Netflix compatibility. Since all plans come with a 3-day free trial (without bandwidth limit), VyprVPN does not offer refunds under any circumstances so be sure to test out their service as thoroughly as possible before committing to a yearly plan. Luckily, canceling your VyprVPN trial or subscription is actually pretty simple, just follow the steps below:
Log in to your control panel (URL)
Click "Accounts" and then "Cancel Service"
Answer why you want to cancel
VyprVPN account cancellation
Considering how many VPN providers offer shady refund terms and hidden charges, it's refreshing to see that VyprVPN is straightforward and transparent about the entire payment process. One final note to consider is that VyprVPN does not offer any anonymous payment options. You can only pay with a debit or credit card, PayPal, or AliPay.Sorry Bitcoin fans, if you want to pay anonymously, VyprVPN is not the service for you.
Do We Recommend VyprVPN?
VyprVPN is a great VPN provider that offers their customers access to top of the line security features, a vast server park, Netflix compatibility and decent customer service. However, their lack of anonymous payment options and legal concerns around torrenting files can pose as a serious issue for some users. In that case we would recommend another provider like Surfshark or Private Internet Access VPN.
When you consider just how many excellent VPNs are in the same price range it's hard to justify purchasing a VyprVPN subscription over one of their faster or more feature rich competitors.At the end of the day, if your primary concern is security and anonymity, VyprVPN is one of the best services on the market, it's not cheap though, and certainly not for free.
It's clear that VyprVPN is a great VPN provider that is committed to constantly improving their quality of service. We were impressed with the recent changes that the provider has made to their performance, privacy policy, and customer service.
After these recent changes, we can now recommend VyprVPN for anyone looking for online privacy, torrenting support, and the ability to bypass censorship and streaming geo-restrictions.
Is VyprVPN Good for Torrenting?
VyprVPN has never banned torrenting, but in the past it wasn't strongly encouraged. However, some recent policy changes have made this VPN much more torrent-friendly. The provider's recent transition to a strict no-log policy means that VyprVPN is now able to offer a much stronger claim of privacy and anonymity than in the past — especially since the policy has been independently audited. With no usage or connection logs on record, VyprVPN is unable to provide any information in response to DMCA requests. We will discuss this policy change in more detail below.
Is VyprVPN Safe?
VyprVPN protects your internet connection with secure AES 256-bit encryption. The VPN also offers additional protection with extra security features like an automatic kill switch and a NAT Firewall to block malware. One of VyprVPN's best features is its proprietary Chameleon™ technology. With VyprVPN, not only do you get a choice of OpenVPN, WireGuard, and L2TP/IPsec protocols, but you can also select the unique Chameleon™ protocol. Chameleon™ offers all the security benefits of OpenVPN, but also scrambles your metadata to prevent DPI, VPN blocking, and throttling. That makes it useful at overcoming restrictions in censored regions such as China. We detected no leaks during our security tests, which is good news for VyprVPN's protection.
Does VyprVPN Keep Logs?
No, VyprVPN has a strict no-log policy. It also hired independent cybersecurity company Leviathan Security to perform a thorough privacy audit. The results of the audit confirmed that VyprVPN does not collect any Personally Identifiable Information (PII) through its VPN service. With this move for transparency, VyprVPN became the first publicly audited No-Log VPN Provider. In addition to this great privacy policy, VyprVPN is incorporated outside the jurisdiction of the 5/9/14-Eyes Alliance in privacy-friendly Switzerland and also adheres to the Safe Harbor Privacy Principles to provide maximum transparency when it comes to customer data.
Does VyprVPN Work in China?
If you're looking for a VPN that can give you access to the free web during a trip to China, VyprVPN is an excellent choice. The VPN's proprietary Chameleon™ technology provides all of OpenVPN's security but also scrambles your metadata to prevent your VPN use from being identified. This protocol is great for bypassing restrictive censorship in China and other countries that don't allow free access to the internet. In early 2021, VyprVPN introduced an extension of this technology, Chameleon™ with Smart IP. It works by changing the server IP periodically throughout your session without dropping the connection. This makes the VPN even harder for governments to detect.
Is VyprVPN Compatible with my Device?
VyprVPN is compatible with all major platforms. The VPN's features are similar across platforms. You can connect up to 3 simultaneous devices with a basic plan, and 5 simultaneous devices with a premium subscription. The provider offers a generous number of dedicated apps, and there are also set up guides to manually configure the VPN on a variety of other platforms. VyprVPN is fully compatible with the following devices:
Windows
MacOS
Android
iOS
Linux
QNAP
Blackphone
Smart TV
Anonabox
Tomato, DD-WRT, OpenWRT, and ASUSWRT routers
Boxee
Synology NAS
Blackberry