Avast Secureline VPN (2022) Review
Are you looking for a new Avast Secureline review? That's logical, the last couple of years these services have gained enormous popularity, almost 30% of the internet users has been using VPN services over the past 5 years. We at Globalwatchonline.com tested and tried all different providers for you, read our comprehensive Avast Secureline VPN review and learn everything about this service, we are sure that once you're done reading you will know if this provider suits you. Want to check out all options? Then make sure to read the best VPN guide of 2021.
Who and what is Avast Secureline VPN?
Avast SecureLine VPN is a VPN service provided by cybersecurity company Avast. Avast offers several other cybersecurity products, including anti-virus software. The VPN has servers in 55 locations in 34 countries. The company doesn't disclose the exact number of VPN servers in the network. Avast SecureLine VPN promises to mask your IP address, hide your online activity from spying eyes, and help you access blocked streaming content on services like Netflix or Kodi.
I tested Avast SecureLine VPN to find out if the VPN performs as well as it promises. I found some different pros and cons that I will discuss in more detail below. Highlights include Avast SecureLine VPN's streaming services, speed, and user experience. It's also a good choice for unblocking major Netflix libraries, as well as other streaming platforms.
Downsides include the company's logging policy, the lack of responsive customer service, and the price point. Despite being one of the most expensive VPN providers out there, I decided to give them a try.
Avast Secureline offers both free (7-day trial) and paid versions. They use strong 256-bit AES encryption and you can choose from OpenVPN, IPSec & IKEv2 protocols. Their server speeds are top of the line, they even landed in the top 10 of our fastest reviewed VPNs, but still fall behind the top providers like Express VPN and Nord VPN.
What are the advantages and pro's?
Fast & reliable service that connects to the optimal server location
Simple use with one-button protection on public Wi-Fi connections
Anonymous browsing
Instant access widget
Automatically reconnects when you switch from data to Wi-Fi
Great customer service
Where is Avast VPN located?
Avast Secureline was launched in 2014 in Prague, Czech Republic. Although the company, Avast, has been around for a while – since 1988. The VPN service supports the following devices and operating systems:
PC
Mac
iPhone
iPad
Android
Android TV
Avast SecureLine works on up to five devices and features no bandwidth limits. As for TOR, customer support mentioned the VPN is not compatible with it. It's worth mentioning that Avast provides ONLY 55 servers in 34 countries. That's a really low number of total servers compared to other VPN providers, like NordVPN and ExpressVPN, that both have over 3,000 servers. The only countries that Avast has more than one server location are Canada (two cities), Germany (two cities), Russia (two cities), Spain (two cities), the United Kingdom (two cities), and the United States (16 cities).
Avast SecureLine does offer a kill switch, which is perfect for protecting your privacy if your connection is ever lost. Kill switches are a critical safeguard or backup plan. When they detect your network connection is about to terminate, they'll automatically kill your current session, too.
That helps to keep whatever you were doing private and away from prying eyes. If purchased alongside your subscription, their MultiDevice service allows up to 5 simultaneous conncetions.
Is The Speed Of Avast VPN As Fast As They Promise?
Avast brags on their homepage about how fast their VPN service is. So now it's time to put them to the test – literally! I ran speed tests of their service on servers in the US and the Netherlands to see how they stack up against the competition. Here are our results with Avast VPN:
US Server
Ping: 113 ms
Download: 67.94 Mbps
Upload: 13.67 Mbps
Netherlands Server
Ping: 34 ms
Download: 65.97 Mbps
Upload: 39.44 Mbps
These are pretty fast speeds in comparison to some other VPNs. They're not the fastest, but not the slowest, either.
Well Encrypted and Secure
AES-256 encryption
Kill-Switch
DNS leak protection
Avast SecureLine offers two protocols, IPSec and OpenVPN on UDP with AES 256-bit encryption. This is military-grade encryption. The "256" number refers to the encryption strength. The short story is that 256-bit is the best in the business right now. It's considered virtually 'brute-force proof' by many of the top government agencies and security professionals around the world. Avast SecureLine also offers DNS leak protection. This handy little feature makes sure that none of your personal data might 'leak' outside the VPN connection without you realizing it, divulging your browsing activity or true physical location.
Torrenting Is Allowed
It appears that torrent downloads and P2P are allowed with this Torrenting VPN. According to the Avast VPN FAQ page: SecureLine VPN allows peer-to-peer connections through our data center locations listed below.
Prague, Czech Republic
Frankfurt, Germany
Amsterdam, Netherlands
New York City, New York
Miami, Florida
Seattle, Washington
London, United Kingdom
Paris, France
No Logs Policy
Avast SecureLine claims that they keep no data logs of your online activity. However, they do store connection logs, which show the time you connect or disconnect to a server, how long you are connected, and how much bandwidth you use. Avast claims that this information is only collected for "diagnostic purposes and to prevent abuse of the VPN connection."
But, when you read Avast's privacy policy, you'll find that they offer links to third-party sites such as Twitter or Facebook. Overall, I'm a fan of Avast's security. Just be aware that some logging, like most other VPN services, is happening in the background.
Fast Customer Support At Their Customer Service
Avast Secureline uses a ticketing system and has a number you can call for a free diagnosis. They also offer a knowledge base full of help articles, tons of support pages, and a forum. Since the knowledge base is searchable, users can easily find what they need by typing in a few basic keywords. That being said, Avast doesn't offer a live chat support option and I wasn't able to find a customer support email for the company.
They do, however, have a Twitter account where users can send in direct messages. I sent one in to test out how responsive their social support is. More than three hours later, I still hadn't heard back. The good news is that if you need support fast, Avast's phone support is available 24/7.
The question, of course, is how truly fast was it? I called in to see if it was an automated service or if I would actually receive help from an actual human. Initially, there is an automated message that directs to select a number so that Avast can direct your call to the right person.
This is a huge step above live chat, in my opinion, because you have the option of hearing a live person's voice for assistance. I've tested "live" chats on numerous VPNs and sometimes it took them hours to get back to me. No live chat or email options were disappointing. The Twitter alternative was interesting, but so far has proved to be too slow. However, they saved it in the end with a quick, responsive call center.
Great Usability on Both Desktop and Mobile With AvastVPN
Avast's VPN software is surprisingly sleek and simple. All it takes to connect to one of Avast's servers to hide your IP address is the click of a button. And changing your location is as easy as selecting a country off of the server list inside of the user interface. There's even a "Preferences" menu where you can customize Avast to better suit your needs. For example, you can set it to automatically connect every time your computer starts up. That way, you're always protected.
Avast also offers a mobile app that is available for both iPhone and Android. The usability of the mobile app is just as sophisticated and simple as using the service on a PC or Mac. Much like the desktop interface, all it takes to connect to a server is just one tap.
And changing server locations takes little to no time at all. However, the free mobile trial requires users to hand over their credit card information to get started, unlike the desktop version. So if you're only looking for an initial test drive of the service, you might want to do it on your good old fashioned desktop instead of mobile.
We Found No Leaks On This VPN Service With Testing
VPN's create a secure tunnel around your internet connection. This encrypts your traffic so no one can bust inside. But more importantly, it creates a seal around your IP address and hides your true location. That way, no government agency can get you in trouble for looking at what you're looking at while sitting where you're sitting.
Unfortunately, these connections aren't always as secure as they seem to be. For example, a DNS or WebRTC leak can cause your IP to be revealed without you even realizing it. The good news is that we found the Avast Secureline connection to be leak-free.
Good for streaming, but a little basic for the price. With its fast speeds and ability to access popular streaming platforms, Avast SecureLine VPN is a good choice for streaming. The VPN also covers the basics when it comes to security. However, the price is a little high for a VPN that doesn't include many advanced features. The company's customer service also could be better.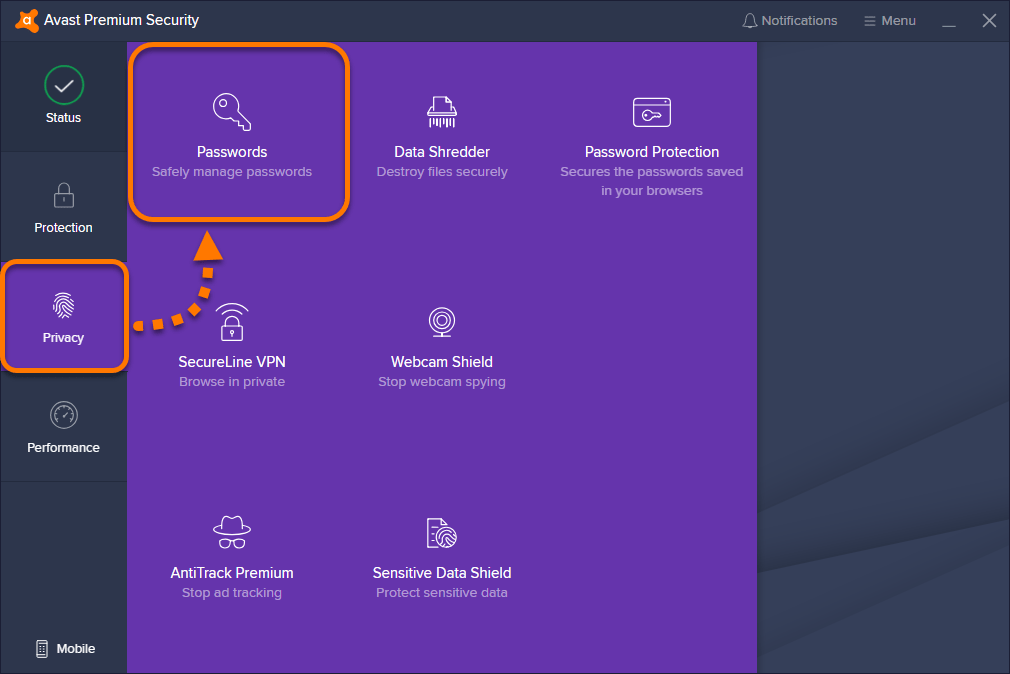 Avast SecureLine Cons
It's also important to note that Avast SecureLine can't be set up on routers to provide additional protection. This VPN appears to be basic protection for PC and mobile devices only. While this won't be a big deal for most users, it's something to keep in mind. Installing a VPN on a router is a great way to protect all of the devices in your house without having to remember to sign in every time you log on. It's especially useful if you want to protect gaming consoles, IoT devices, smart TVs, and lots of phones and tablets. This isn't a deal breaker, but we'd prefer the possibility of using Avast with a router.
Does Not Work With Netflix
There's always an ongoing battle between VPNs and Netflix—and Avast is losing the battle at the moment. Netflix knows when you're using an Avast connection, and won't let you stream movies or shows. Of course, it's possible that this could change. VPNs are always working to stay ahead of Netflix's blocking capabilities. Netflix VPN streaming error. But for the moment, you'll need to use a different VPN if you want to watch Netflix.
Based In Czech Republic With Bad Jurisdiction
Avast is based in the Czech Republic. While the country isn't part of any of the major intelligence-sharing agreements that we discuss on a regular basis, it does cooperate with the Five Eyes agreement countries. This doesn't mean that Avast will be sharing your data with intelligence agencies in the US and the UK.
But the fact that the Czech Republic is friendly with these countries and willing to cooperate on intelligence sharing makes some people nervous. We don't have any evidence that Avast has been sharing data with Five Eyes countries. But we aren't especially comforted by the Czech Republic's cooperation with them.
Avast SecureLine Pricing
Rather than offering the standard one-month, three-month, six-month, or year package like almost every other VPN service I've reviewed, Avast's pricing is based on the device you want to use it on. Each package is the same as far as access to features go, though.
Access to 5 devices is $79.99 per year.
This comes out to $6.67 per month or about $16 per year for each device. This plan appears to be the best value.
Access to Avast SecureLine for your PC or Mac is $59.99 per year. This comes out to about $5 per month for access to only one device.
Access to this VPN for Android, iPhone, or iPad is $19.99 per year. This plan comes out to be $1.67 per month for access to one mobile device.
One of the great things about Avast SecureLine is that they offer a free 7-day trial with no strings attached. You don't have to enter your payment information to have full access to Avast SecureLine to decide if you want to use it. The payment options, much like the pricing, are a bit lacking in comparison to other competitors who offer other payment methods such as Bitcoin, Perfect Money, etc.
Right now you can pay via:
Avast's refund policy reveals a standard 30-day money-back guarantee if you purchase through their "online retail stores" or through Google Play. If you go through a reseller or iTunes, for example, you'll have to go back to them for refunds (and the terms might differ). The only potential catch with this refund comes down to your VPN usage during the thirty-day period. If you upload/download over 10GB of data, or if you connect over 100 times, you will not be eligible for a refund. So make sure you don't over-use the service during that initial month.
Do We Recommend Avast Secureline?
After reviewing all of the evidence, I don't recommend using Avast's VPN service. The company provides a reasonably good free antivirus solution. Their VPN is incredibly easy to use. And the call-in customer service option was great! But in the end, there are just too many issues to overlook. The fact that it doesn't work with Netflix is a big one. Not everyone wants to stream over a VPN, but it's a very common use for private networks.
Czech jurisdiction, the lack of router support, and pricing that's easy to beat all combine to make this a VPN that's not at the top of my list. Avast Secureline is certainly not a bad VPN. It's very fast, supports torrenting, and only keeps connection logs and is way better then free VPN services or the cheapest VPN service on the market.
And we found that the connection was leak free for the most part. But you can get those features without paying as much, and it's easy to find a VPN that supports Netflix. All in all, Avast isn't a bad choice, but it's certainly not the best one compared to other players such as ExpressVPN, Surfshark or NordVPN.
Avast SecureLine VPN uses the protocols OpenVPN (UDP), IPSec and IKEv2, depending on the operating system you use.
Avast SecureLine's logging policy is problematic: IP addresses are partially stored, as is much other information.
Avast SecureLine does not track users' browser activity and DNS requests.
The browser data of free Avast users has been sold to third parties in the past.
Avast SecureLine has a built-in kill switch.
To create an account, Avast SecureLine requires an email address and username.
Does Avast SecureLine VPN Have an Ad Blocker?
No, Avast SecureLine VPN does not include an ad blocker in the VPN service.
Does Avast SecureLine VPN Work in China?
The company doesn't make any promises that the VPN will work in China. China has been cracking down on VPN use in recent years. This has made it more difficult for providers to guarantee that their VPNs will work in China. Avast SecureLine VPN uses an OpenVPN protocol, which is often easily detected and blocked by the Great Firewall of China. Avast SecureLine VPN also doesn't come with any advanced obfuscation features, which are designed to disguise your VPN activity to make it look more like regular traffic. You may want to look elsewhere if you need a VPN specifically for use in China.
Does Avast SecureLine VPN Have a Free Version?
No, but it has a 7-day free trial. You do not need to create an account or enter a credit card number to take advantage of the trial.
Avast SecureLine VPN's Refund Policy
Avast SecureLine VPN subscriptions come with a 30-day money-back guarantee. You can receive a full refund as long as you request it within 30 days of purchasing a subscription. Requesting a refund is easy. There is a convenient refund request form available on the company website that only takes a minute or two to fill out.
Is Avast SecureLine VPN Compatible with My Device?
Avast SecureLine VPN offers dedicated apps for Windows, macOS, Android, and iOS devices. You can also install the VPN as a browser extension for Chrome and Firefox. The company doesn't provide any manual configuration files, so you won't be able to install the VPN on other devices. The VPN supports up to five simultaneous device connections with each account.