VPNHub (2022) Review + Guide
Are you looking for a new VPNHub review? That's logical, the last couple of years these services have gained enormous popularity, almost 30% of the internet users has been using VPN services over the past 5 years. We at Globalwatchonline.com tested and tried all different providers for you, read our comprehensive VPNHub review and learn everything about this service, we are sure that once you're done reading you will know if this provider suits you.
Who and what is VPNHub?
Pornhub releasing their very own VPN service with VPNHub is as much surprising as it is expected. After all, the adult website is known for its forward-thinking mindset and willingness to branch out. But do they have the necessary expertise and resources to make VPNhub a success?
It turns out they don't need to in this day and age, simply hiring an app developer and obtaining a bunch of servers is enough. VPNhub may be Pornhub's brainchild, but the software is developed and maintained by the US-based AppAtomic, while the server network is ostensibly owned by cloud services giant StackPath.
When your VPN's infrastructure is the product of a partnership and not your own, there will be some concerns for users. Limited control and accountability are an inevitable result, but the real issue often is privacy — it takes a hit.
I was disappointed to find that VPNHub can't unblock Netflix or BBC iPlayer. If your main reason for using a VPN is to unblock streaming services, I suggest ExpressVPN instead. It's super-fast and can unblock more than 140 streaming services. Additionally, it offers much stronger security features than VPNHub. Although VPNhub is smart to avoid advertising a zero-logs policy (because it doesn't really have one), that doesn't help its case much, also if you are looking for a Kodi VPN, you can better go for Surfshark VPN services.
The VPN is covered by the same privacy policy all other AppAtomic products are under. Granted, there's been a recent addition of two hastily-put sentences which reassure VPNhub users that none of their activities are tracked. That's hardly enough, however — more VPN-specific information is needed to convince us that they're really guarding our privacy.
What are the advantages and pro's?
1,000+ servers in 60 countries
Strong encryption and OpenVPN support
Free version for Android and iOS with unlimited bandwidth
Up to three devices connected at the same time (Premium only)
Free seven-day trial when you upgrade to Premium (but no money-back guarantee)
Easy to use and install
VPNhub is smooth and easy to run, but getting there can be a challenge, especially if you want to upgrade to Premium. Installation is simple on Android and iOS. All you need to do is go to the app store and download the VPN. Things get tricky if you want desktop functionality as well, available only by upgrading to Premium. It's a rather confusing process: Since the free VPN is available on mobile only, you'll have to make the purchase from your Android/iOS device a bit counterintuitive if you want VPNhub mainly on Windows or Mac.
After upgrading, you'll need to go to VPNhub's website, enter your login credentials, and then download the client for your desktop. Once you're finally done, VPNhub is a joy to use. The interface is great, albeit a little minimalist, and you have plenty of useful features and settings to work with. Premium users are allowed up to three simultaneous connections.
No Leaks With This VPN Service
We tried out all the main leak identification sites – Virustotal, IPLeak.net, Perfect-Privacy DNS leak test, IPX.ac, Browserleaks.com None of the sites found any leaks while using VPNhub. Some services tend to have a lot of them. For example – Hola free VPN scored DNS leaks on 3 websites out of 7. Low-quality and bad service is common with free VPNs, this is why we recommend using the best payed services.
Compatible With Main Platforms
VPNhub is working on main platforms – Mac, Windows, iOS, and Android. Unfortunately, it's not working on Linux, but it is not a big deal for the everyday user. If you want to get into Netflix and watch a movie from "Steamy" section, it's also possible with VPNhub. Additionally, torrenting is not allowed.
TOR browser is allowed and works fine.
There are locations in which VPNhub is not responding at all.
If you are located in one of these countries, you won't be able to use VPNhub – Burma/Myanmar, Cuba, Iran, North Korea, Sudan, Syria.
It might also be blocked in – Qatar, Saudi Arabia, UAE, Egypt, China.
Wide Variety Of Servers
VPNhub has over 826 servers to choose from within 18 different countries. Compared to other service providers, it's just over the average. Servers include – Australia, Belgium, Brazil, Canada, Denmark, France, Germany, Hungary, Italy, Japan, Korea, Netherlands, Poland, Singapore, Spain, Sweden, the UK, and the US. For example ExpressVPN, the top player in VPN market, has 2,000+ servers in 94 countries. There is a noteworthy plus worth mentioning: Premium subscription allows you to connect up to 3 devices simultaneously to VPNhub servers.
Secure AES-256 Encryption
VPNhub offers two types of encryptions and protocols. Encryption AES-256 & AES-128 and the Industry standard OpenVPN – Both UDP and TCP OpenVPN is the most secure VPN protocol available, but what's the difference between UDP and TCP? Simply speaking:
TCP
Bypasses FireWalls – The tunnels run on common ports (443, 80) and are therefore rarely blocked
More Reliable – The connections are more stable due to guaranteed delivery of packets
Slow Speed – The higher encryption methods slows the connection
UDP
Less Reliable – Delivery of packets are not guaranteed
Preferred – UDP tunnels are preferred connection method if the network supports it
Fast Speed – Faster than TCP due to lower encryption
The most common attack in cryptography is called brute-forcing. When looking at AES-128, it takes 2(128) guesses to try each of the possible keys, with AES-256, its 2(256). The latter is just cosmically larger, resulting in AES-256 to be a much stronger choice.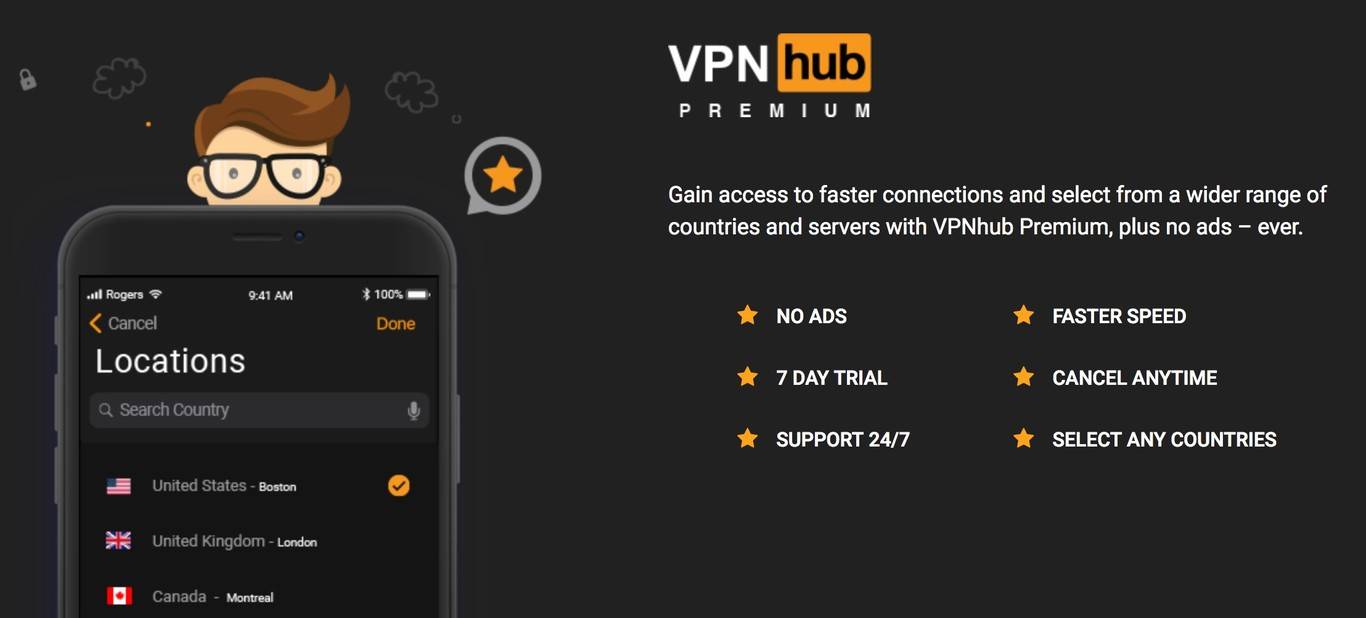 Cons of VPNHub
Do you want to know if VPNHub is a fast VPN? We used Speedtest.net to test out the speed with 3 different servers.For more precise results, we ran every test 3 times and calculated the average of which we then found the relation.
Germany server
Ping – 64 ms
Download – 5 Mbps
Upload – 0.69 Mbps
Singapore
Ping – 562 ms
Download – 2.79 Mbps
Upload – 0.27 Mbps
United States
Ping – 284 ms
Download – 3.98 Mbps
Upload – 0.44 Mbps
Bad Jurisdiction Location
VPNhub developer AppAtomic Limited headquarters are based in Nicosia, Cyprus. Nevertheless, their servers are in the US. Any personal information will be processed by Appatomic in the United States. Most importantly, you have to consider local data protection laws! Mainly because the United States is a member of 5 Eyes Jurisdiction (FVEY). FVEY is the agreement between the US, the UK, Canada, Australia and New Zealand in which that country's surveillance agency has tools and legal rights to access data held on the network in those respective countries. FVEY countries can also request data from their cooperative.
Some features are really buggy
There are several interesting features found in the settings tab. One we haven't seen for a while – Connect to the fastest server (out of 800+). The same feature can be set for a specific country. We also like that they offer Auto Reconnect and Kill Switch, which is also listed in the settings Connection tab. Yet, There's one thing that is more than surprising, the actual Kill Switch doesn't work! We tested it by checking Kill Switch. Then we tried to connect to the internet without the VPN – not working. After being connected to different servers, the internet still didn't respond. As soon as we unchecked Kill Switch, the internet started working again. In their defense, they didn't advertise this feature on their website.
Unresponsive Customer Support
VPNhub proudly announces 24/7 support. We wanted to make sure they are genuine about their statements. We wrote them an e-mail to see the response time and found out it is about 10 hours. Not bad, right? We were pleased to see the reply, as well their politeness and ability to give short and straightforward answers.
The main reason why their support is still awful is the fact that after asking follow-up questions, they still haven't sent us the reply. Our second e-mail was sent 4 days ago, which is far from 24/7 service. As time goes by, people expect immediate solutions to the problems, therefore live chat or phone number would be much more convenient. If you need quick and general answers though, you might want to check out their FAQ page.
Logging
VPNhub claims no logging, but is it true? When their app is opened for the first time, you can choose to either allow VPNHUB to receive your advertiser ID or not. If you turn it off, they may degrade your overall experience. This is a clear sign of a hook they want you to swallow. Advertisers ID is a personalized ID that tracks your browsing habits and more. It is used to gather and sell data, but also to target advertisements. Let us also have a look at their Privacy Policy. To have a clear understanding what data they log, it is important to read every line carefully.The first thing to notice is that they do have some of your personal information and therefore can be accessed by an employee who needs to perform their job functions related to this data.
That's right! Secondly, they clearly state that they cannot guarantee your personal details will not be revealed or viewed by others. To sum it up – they have no legal responsibility for any damages that may occur by leaks. One more thing. Pornhubs partner IPVanish got busted for logging everything and handing logs to feds. Recently, there were court documents published that reveal how IPVanish logged and shared real IP address, full name, username, EOB date, connection sites, connection timestamps and disconnection timestamps.
Subscriber information was requested and Highwinds Network Group, Inc, the parent company of IPVanish provided a report identifying the suspect user. The relevant section can be seen in this image. Lying about logging is actually no surprise for us. There are many VPNs out there that claim "no log" policy but actually do. Here is a list of 100+ VPN logging policies. 26 VPNs out of 115 collect log files hidden deep in their privacy policy.
VPNHub is quite expensive and not free!
VPNhub knowingly announces their services as free. The reality is the opposite. When starting to scroll around their website and read the small texts, it becomes clear it's free only for a week. Not only isn't it free, it's expensive too! After 7 days of trial, you will be billed $13.99 per month or $6.99 per month if you choose the annual plan.
Coming back to being secure, we don't like iTunes billing. This is the only option you have to pay for, both for Windows/Mac and Android/iOS. As Pornhub has partnered with Verge Cryptocurrency, there is a chance that billing methods may change in the future.
We got some hope about the payments when asked them about this issue directly by e-mail. They told us that someday subscribing is going to be possible on desktop version also.
Do We recommend VPNHub?
Pornhub's new VPN is interesting, but still has a lot of ground to cover. VPNhub benefits from great functionality and reliable performance, while Pornhub got the timing right with the looming porn filters in the UK. It all looks good on paper, but this VPN isn't without its drawbacks. Between the shaky commitment to privacy and the overall lack of transparency, VPNhub is far from the ideal VPN service. On the upside, it has excellent apps for all major platforms, strong security, and a host of features.
Still, the lack of live chat and a money-back guarantee is an obvious setback. If VPNhub were more reasonably priced, it could be much more appealing for basic encryption and unblocking. In its current state, the package simply doesn't match the cost. In short, VPNhub has laid a good foundation, but it'll have to build on it if it wants to be taken seriously by demanding users.
They partnered with IPVanish to create the service and even though IPVanish is considered as legit business, they have some past in logging user details.
Furthermore, VPNhub itself is still too green and shady. Their logging policy doesn't guarantee protection from personal information leaks.
There is more than one VPN provider that is highly reputable and trustworthy. Why should you ever risk using expensive and sketchy company instead of better available solutions, it just doesn't make sense from any angle.