ProtonVPN (2022) Review + Guide
Are you looking for a new ProtonVPN review? That's logical, the last couple of years these services have gained enormous popularity, almost 30% of the internet users has been using VPN services over the past 5 years. We at Globalwatchonline.com tested and tried all different providers for you, read our comprehensive ProtonVPN review and learn everything about this service, we are sure that once you're done reading you will know if this provider suits you.
Who and what is ProtonVPN?
In this review, I'll test out their service and see how it performs vs. other free VPN providers. In short, it's not that bad at all. ProtonVPN comes from the same CERN Scientist and Harvard Physics PhD brains behind ProtonMail, the world's largest encrypted email network. So they've already created a free-to-paid, encrypted internet privacy service in one space.
Surely they can do it in the VPN space, too? That's what we're here to find out. Over the past few months, we've been comprehensively testing their OpenVPN protocol, encryption connection standards, speed, security, pricing, and more.
ProtonVPN benefits from its partnership with the well-known, secure email service ProtonMail. The two companies are legally separated for security reasons, but ProtonVPN still draws heavily on existing technology and security from the email service.
However, fans of ProtonMail will be happy to hear that ProtonVPN also has a similar focus on security, privacy, and total anonymity.Its biggest strengths include an attractive and user-friendly interface, robust security, and a strict no-logs policy. Downsides include unimpressive speeds, a lack of live chat support, and fairly pricey long-term subscriptions, if you want to compare all these factors, read the best VPN guide to find the perfect provider.
What are the advantages and pro's?
No log files
Free version available
Good team and vision
Works with Netflix for now
Industry standard protocol & encryption
ProtonVPN is secure and safe
ProtonVPN was founded on the back of security experts. So you know the protocol and encryption standards will be top-notch. They also don't disappoint in a few other key areas, like customer service and a rock-solid connection.
Exceptional Security & Privacy Standards
ProtonVPN comes equipped with OpenVPN (UDP/TCP) and IKEv2 as its protocol, with the super-secure AES-256 encryption. This is bank-grade, state-of-the-art encryption standards. If you are going to suffer a hack, it won't be because they broke through this encryption. Because it's never been done. Instead, most hackers will cut their losses and go after other methods of breaking in, like guessing your password reminders.
Strict No-Logging Policy
We've analyzed 118 VPN logging policies over the past few years. This is often boring, painstaking work. But it's important, this is because pouring through this many terms and privacy policies has taught us where VPNs like to bury their privacy bodies.
For example, we've found that 7% of VPNs commonly log your connections data. And more than 30% of VPNs have suspicious (not straightforward) logging policy. These ones often use vague, technical jargon or legal terms to allow for 'gray' areas that might come back to haunt you.
Now, ProtonVPN has a solid reputation based on their past work. But we've also confirmed that when they say "no logging," you can actually trust it.
Good Customer Support
Ticket-based support systems usually make us cringe. That's because we've all experienced the several day delay between each email, which requires a week long back-and-forth process to answer even the simplest of questions.
That initial thought flashed through my head when I laid eyes on Proton's support options. Reluctantly, I filled out the form with a few simple questions and hit "Send." However, a reply hit my inbox within around 24 hours. And to my surprise, it wasn't just a straight link to a knowledge base article on their site, either. It just needed to be relatively fast and direct. And that's what it was. A pretty good experience all around.
Leak-Free Connection
DNS and Web-RTC leaks can accidentally expose your true IP address. These are typically caused by connection conflicts that open a teeny, tiny hole for your data to seep through. Sounds minor. But it isn't. It allows your ISP, governments, and even two-bit hackers to spot you from a mile (or more) away.
So it completely undermines your use of a VPN. All without you even realizing it. ProtonVPN's connection came out leak free in every test we ran. We also ran their install files through VirusTotal.com and found them to be completely free of malicious software.
One Netflix Server Worked With ProtonVPN
ProtonVPN says on their site that Netflix will work on certain servers. The trick, I guess, is figuring out which ones. A lot of VPNs make that bold claim, but very few of them can actually back it up. What's more, the VPNs that are successful in unblocking Netflix may not maintain that achievement for very long. That's because Netflix is constantly trying to stop VPNs in their tracks, blocking access to its geo-locked content.
All Netflix content is unique to the area in which it is accessed. Netflix has certain deals in place with content providers to bring different shows and movies to different areas of the globe. If you were in the United States, your Netflix list would look very different from someone trying to watch in The Netherlands.
To stop the unwanted flow of its restricted content, Netflix unleashed a powerful VPN detection and blocking system upon the internet. It swept through the VPN world like a tidal wave, knocking scores of platforms off of the world's largest streaming service. However, despite this purge, there are a number of VPNs that still have some success in unblocking Netflix's attempts to keep them out, so ProtonVPN isn't the best VPN for Netflix.
When we first reviewed ProtonVPN, we tested five servers. They were in the UK, Canada, The Netherlands, and two servers in the US. At the time, we found that only one out of the five worked, and it was the server in The Netherlands. We tested this out again in August 2019, and once more, one out of five servers connected to the Netflix service. However, it was a different server.
The UK server, once a recipient of the dreaded Netflix black screen of doom, worked perfectly when I logged in. The Netherlands server, once our only beacon of hope in the war against Netflix bans, was sadly not working when we tested it out this time. ProtonVPN gets listed under Pros for having one success. But practically speaking, just keep in mind that your options might be kinda limited here, even for the VPN use of Kodi.
Easy to Install and Use
When you're choosing a VPN provider, the last thing you want is to open up some overly complicated system that you have to be a computer scientist in order to understand. That's why the best VPNs are the simplest ones.
While ProtonVPN might not look super user friendly at first, looks can be deceiving. Despite a longer than average download time, ProtonVPN proved to be a simple to install system, that had a great ease of use once you get accustomed to its very busy dashboard.
After signing up for ProtonVPN, you're taken to the client dashboard. From there, you'll be able to download the platform of your choice.
Download Screen for ProtonVPN
After selecting the Windows download, I was still taken to yet another download page to actually select the Windows client and start the installation. This didn't take up a lot of time but it was still strange that I had to select which program to download only to be taken to another page where I once again had to select which program to download.
Once that was over, the ProtonVPN software began to download. Typically VPN software takes between 10 and 30 seconds to download on my computer. This one took quite a bit longer, and I found myself waiting for nearly two minutes. Again, this is not the end of the world, and once that was downloaded the installation went through almost instantly.
Download Client for ProtonVPN
The sign in screen was plain and simple, which is always good when using a VPN. You want to be able to efficiently sign in without having to navigate through various options. Enter your username and password, and you'll be connected. You can also set up your VPN client to remember your login information (not recommended on a shared computer) or to start up automatically with Windows.
ProtonVPN Sign in Screen
When you login for the first time, ProtonVPN takes an extra step that I haven't seen many VPNs do before. It offers you a tour of its interface. This is particularly helpful, since as you'll see momentarily, it can be a little intimidating when you see if for the first time.
One of them is the ability to create profiles, allowing you to save your settings in order to go back to them whenever you want. This is great for users who want to go right to their favorite Netflix server or one that was particularly fast. Once you're connected to a server, there will be a green link in the upper left that says "Set as Profile." Click on that and you can hold onto any of the servers that you enjoy without having to sift through the list to find them again.
ProtonVPN Tour
It also talks about the ProtonVPN Secure Core, which lets you add additional levels of security onto your browsing session. It should be noted that this service is only available to subscribers who purchase ProtonVPN's Plus or Visionary plans.
ProtonVPN Tour 2
Once all of that was over I clicked on "Quick Connect" in the upper lefthand corner and was instantly connected to the fastest server they had.
ProtonVPN Client
While this interface might look like a NORAD computer screen, it's actually a lot more simple than it appears. Everything you need is on the lefthand side. That includes the button to connect and disconnect, the server list, saved profiles, and the ability to activate Secure Core.
Another fun feature is the fact that the flag of the country you choose appears in the upper left. The map, which takes up the majority of this massive interface, mostly exists to show you where on the globe your signal is traveling to.
It also monitors some of your other information like speed, volume, and the length of your session. This is important information that a lot of VPNs leave out.
Switching servers was a breeze. You find the server country you want from the list on the left, click on it, and you'll automatically be connected to the best server in that region. You can also expand the list country by country to select specific servers. All in all, despite the longer than average setup time, this is a VPN that is easy to use and effective.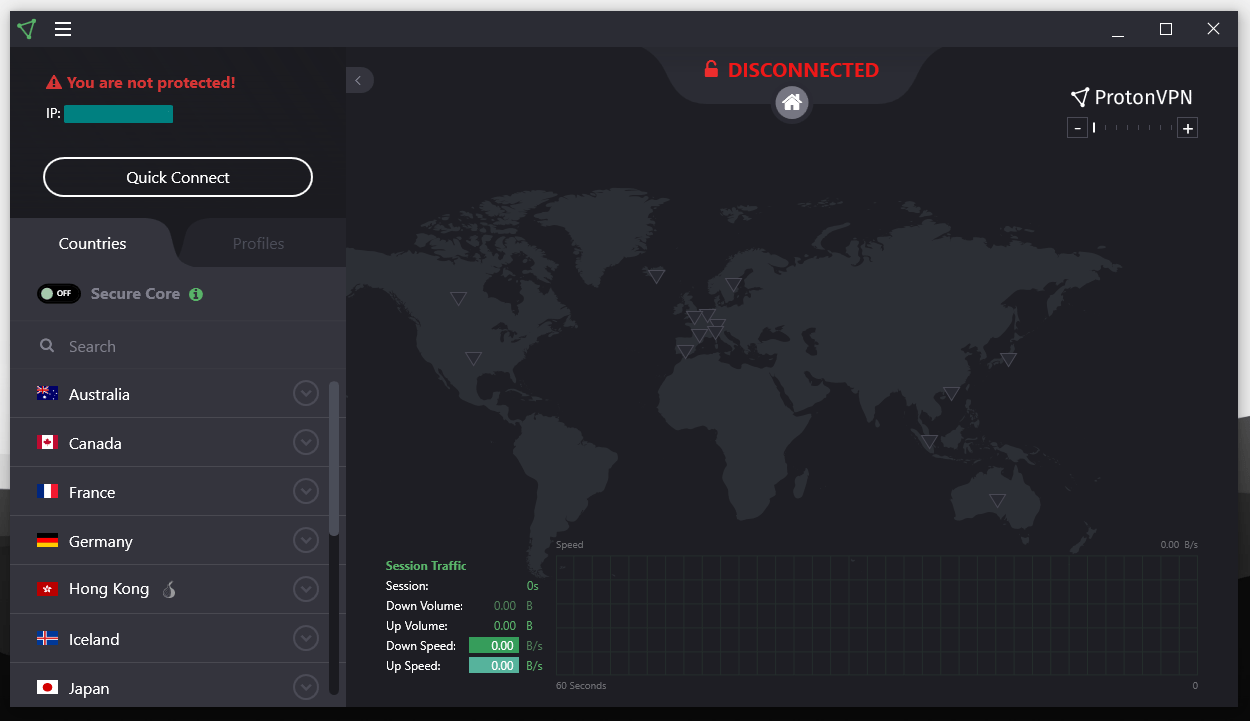 ProtonVPN Cons
ProtonVPN gets high marks for their attention to security detail. However, there are still a few drawbacks we uncovered. Let's take a look at each of them in-depth.
They are Located in Switzerland
Switzerland has a history of being a 'neutral' country. One that protects the privacy of its citizens and doesn't like to get involved in domestic conflicts. And all of that is true. Swiss laws do protect privacy. Generally speaking. The issue, though, is that Switzerland is also a cooperating member of the extended Eyes security alliance.
This is a worldwide agreement that essentially helps government agencies to spy on each others citizens in the name of worldwide safety. I don't mean that in a conspiracy-theorist way. This has already been happening for decades.
So a Swiss-based location means you're mostly good. Your privacy is mostly safe. The good news is that ProtonVPN doesn't keep a lot of their customer data on file. But just keep in the back of their mind that their government might force them to cooperate.
Server Speeds are Too Slow for the Price
Speed is the great equaliser. All else being similar — pricing, features, security protocols, etc. — you're going to go with the fastest option. Because speed makes all things possible (streaming, torrent downloads, or just a dozen tabs up while you're bouncing around between browsing sessions).
We use SpeedTest.net to get a reading of our benchmark, non-VPN internet connection. We got 97 Mbps download and 53 Mbps upload at the time of this review. Then, we connect to a few different ProtonVPN servers. We try to select random ones around the world to get a fair, unbiased view.
Finally, we calculate the differences and come up with a combined score that gets ranked against all of the other reviews we've previously done. Sound good? Check out each server test in detail now to see if this is one of the most fast VPN's in the world.
U.S. Servers (East & West)
ProtonVPN's U.S. servers started extremely slow. The download speed, especially, would make most torrenting activities slow to a crawl.
Ping: 190 ms
Download: 24.6 Mbps (75% slower)
Upload: 36.4 Mbps (31% slower)
EU Servers (Switzerland)
The EU servers, on the other hand, didn't disappoint. This probably also had something to do with our closer proximity to this servers. Even something as simple as physical distance between you and the connected server can impact performance. But credit where credits due.
Ping: 66ms
Download: 54.46 Mbps (44% slower)
Upload: 37.86 Mbps (29% slower)
Asia Servers (Hong Kong)
We thought the U.S. server speeds were bad. Until we saw the Asian ones out of Hong Kong. 85% slower across the board.
Ping: 317 ms
Download: 16 Mbps (84% slower)
Upload: 6.4 Mbps (88% slower)
UK Servers
And last but not least, a UK server feel somewhere in the middle. Unfortunately, it wasn't on the 'good' side of the middle.
Ping: 46ms
Download: 52 Mbps (46% slower)
Upload: 47 Mbps (11% slower)
These results were disappointing across the board. Consistent, yes. But consistently slow is not good.
Limited Device Compatibility
The best VPNs we've reviewed all provide pre-built apps for every device imaginable. This way, all you have to do is point and click. No technical experience required. No manual labor needed. ProtonVPN provides pre-built apps for Mac, Windows, Linux, and Android devices.
Unfortunately, that's all they provide. Any users of TOR will find that this VPN is sadly incompatible with it. The last time I reviewed ProtonVPN, they did not have a native app for iOS clients.
Now in 2021, they now have a native iOS app. But even worse, it means there's no pre-built option for smart TVs or gaming consoles. While there was no support for routers the last time I reviewed ProtonVPN, they now support installing their VPN on DD-WRT, AsusWRT, and Tomato routers. They've got 345 servers in 32 countries, which could be a problem for people who look into VPNs for torrenting.
Limited Torrenting Available
Unfortunatley, ProtonVPN doesn't allow unlimited torrenting. It's not allowed at all on free plans. The reasoning is that "P2P would increase the load on our servers due to torrenting and this would put more pressure on us, ultimately not allowing us to subsidise the free accounts from the paid ones." That's understandable.
It is allowed on paid ones, but only on certain servers. Again, the reasoning is that they channel P2P traffic through neutral "safe countries." However, they also take this moment to bring up Swiss law: "File sharing is only permitted for personal, non-commercial use." So yes, they allow it. But there are several restrictions which might make it impractical for you.
Limited Protocols (OpenVPN Only)
This last one is on the border. ProtonVPN only offers the OpenVPN protocol. Technically speaking, this is a GREAT thing. It's the state-of-the-art industry standard. Almost everyone, everywhere should use ONLY use OpenVPN. So why is this showing up under the Cons section? Because not everyone has the choice of only using this protocol option.
Many older devices, or even some less expensive new ones like some Chromebooks, don't offer OpenVPN support just yet. Instead, you'll have to connect through a different (albeit, less-desirable) protocol like L2TP or PPTP.
These other options aren't nearly as secure. And in most cases you wouldn't want to use them. You don't always have that choice. Sometimes you gotta do what you gotta do. And for that reason, ProtonVPN might not work for large cross-section of potential customers.
ProtonVPN Pricing
ProtonVPN has four plans to choose from, with optional discounts for paying annually. So the prices below INCLUDE the annual ~20% discount.
Free: $0/month
Yes, Proton has a free VPN. But yes, it's also pretty bare bones. The service comes with only three server locations: The Netherlands, USA, and Japan. It doesn't come with any extra features. But it does help you unlock a free seven-day trial of their paid plans. So that might be a good way to dip your toe into ProtonVPN's waters without spending a single cent.
Basic: $4/month
Proton's Basic plan is a marginal upgrade on the free one to be honest. You do get access to all countries, but not Plus, Secure, or Tor servers. Your speed access is "high" but not the "highest." Plus, you only can connect two simultaneous devices. So kinda a bummer to be honest. Skip over this option.
Plus: $8/month
Proton's Plus plan increases your connection limitation up to five devices. Speed is the "highest," and you get access to Plus, Secure Core, and Tor servers. This is probably the only plan you should go with to be honest.
The fourth plan, Visionary, is kinda the same as the Plus, but with a cross-sell for their ProtonMail offering. So that's also a decent option at $24/month (paid annual) if you were already considering both encrypted options. Otherwise, you can pay for all of these plans with either credit card or PayPal. Nothing else (cash, bitcoin, etc.) from what we've seen.
ProtonVPN comes with a 30-day money-back guarantee. However, you only get a prorated amount of the "unused portion." In other words, if you use it for 10 days, you'll get a refund for 20 days worth. That's not a great refund policy compared to others, like CyberGhost, which offers a full "no questions asked" money-back guarantee. Refunds in the original currency or payment method you used will be given, too.
Do We Recommend ProtonVPN?
No, we don't. ProtonVPN features an awesome connection with the highest security considerations. Their customer service was good and Netflix even worked on one server. Unfortunately, it's a few other areas that let it down in the end, one things is for sure, it's better then using a free VPN.
A Switzerland home base is generally a good thing for privacy. But they are cooperative with other aggressive government agencies around the world. Honestly, the server speeds were not good. Device options are limited. And the pricing, even with a 20% annual discount, is still on the high end for what you're getting in return. There are just so many better options available, with the same connection strength, faster performance, and more devices, for far less.
ProtonVPN is a fairly new player in VPN land, but has already built a strong reputation. They handle the security of their servers very well and offer many options to strengthen it. Secure Core ensures that premium users are even more secure. In addition, the VPN is decently priced, provides access to Netflix and the ability to download torrents, and is fairly straightforward and easy.
ProtonVPN only works with highly secure protocols
Log policy: only connection logs
ProtonVPN's apps are open source
ProtonVPN has a built-in kill switch and the option to automatically connect to another VPN server
To create an account you must provide an email address and payment information
Does ProtonVPN Keep Logs?
Located in privacy-friendly Switzerland, ProtonVPN has a strong focus on delivering total anonymity to users. The privacy policy is very transparent and straightforward.
ProtonVPN follows a strict no-logging policy that is backed up by Swiss law, which doesn't require retention of any information about your connection, session bandwidth, IP address, or online activity. Because ProtonVPN doesn't keep any user logs, it can't be forced to hand over identifying information to any third parties.
If you're looking for an even stronger guarantee of anonymity, you can take advantage of the Tor over VPN service, which will direct your traffic through the Tor network without you having to download the Tor browser.
Does ProtonVPN Have an Ad Blocker?
ProtonVPN offers NetShield to its Plus and Visionary users and comes with three levels of protection. You can set it to block malware, trackers, and ads, malware only, or nothing at all. Whenever you change the settings, you'll need to also reconnect the VPN.
Does ProtonVPN Work in China?
ProtonVPN can be a good choice if you are looking to bypass China's tough censorship. There are multiple server locations near China, including Hong Kong, that get decent speeds. However, some server locations may be blocked. To avoid trial and error, you can email the support team to request a list of recommended servers for use in China.
Is ProtonVPN Compatible with My Device?
ProtonVPN offers good device compatibility, with user-friendly native apps for Windows, macOS, iOS, and Android. All apps are open source and have undergone an independent audit, and you can use OpenVPN in the beta version of iOS. You can also find detailed manual configuration guides for Linux, and its newly improved Linux command line is the beta stage of testing.
ProtonVPN recently released an app for ChromeOS as well, it's available for any Chromebook that supports Android apps.
The number of simultaneous devices supported depends on your subscription tier. Free plans allow only one device, Basic plans allow two simultaneous devices, Plus plans allow five simultaneous devices, and Visionary plans allow 10 simultaneous devices.