CactusVPN (2022) Review + Guide
Are you looking for a new CactusVPN review? That's logical, the last couple of years these services have gained enormous popularity, almost 30% of the internet users has been using VPN services over the past 5 years. We at Globalwatchonline.com tested and tried all different providers for you, read our comprehensive CactusVPN review and learn everything about this service, we are sure that once you're done reading you will know if this provider suits you.
Who and what is CactusVPN?
CactusVPN is a VPN provider that offers fast, secure and anonymous internet connections through 39 servers in 22 different countries. We were disappointed to see that it can't unblock Netflix, though. It uses seven different VPN protocols: L2TP/IPSec, OpenVPN, SSTP, SoftEther, PPTP, IKEv2, and WireGuard. It provides strong data encryption and high speed connections, as well as unlimited bandwidth use. Peer-to-peer and torrent file sharing are allows on the Germany, Netherlands and Romania servers. CactusVPN also offers a SmartDNS option, which allows you to unblock a ton of popular streaming services and websites.
CactusVPN is a Moldova-based VPN service from CactusVPN Ltd. It claims to offer its users anonymous browsing, hidden IP address to bypass geo-restrictions and top data protection OpenVPN tunneling protocol with 128-bit AES encryption.
Moldova is a little Eastern European country, located next to Romania and Ukraine. On the plus side, it's a privacy-friendly place. But on the downside, CactusVPN has very small server network with only 23 servers in 14 countries.
CactusVPN is easy to configure and connect. It includes an apps killer feature, and is very user-friendly, even for beginners. The provider's website makes it even easier to use this VPN service, as it contains many guides, tutorials and FAQs to help users. It is compatible with several operating systems such as Windows, Mac OS X, iOS, Android, and Linux.
This means it can be used on most desktop and laptop computers, as well as on most tablets and smartphones. It also works on routers, Apple TV, PlayStation 4, PlayStation 5, Xbox 360, Xbox One, and other devices. Multiple devices can be used in the same account simultaneously, as long as each is connected to a different server. Regardless of which plan you choose, you get access to all 39 servers. CactusVPN also offers a 30-day money-back guarantee on all of its plans. Want to compare this provider? Then make sure to read the top 10 best VPN's in 2021.
What are the advantages and pro's?
Kill switch
Plenty of protocols to choose from
SmartDNS service
Smaller network
30 day money back guarantee
Collects Zero Logs
CactusVPN starts strong with a no-laughing-matter logging policy. The follow it up with a local jurisdiction outside any pesky security agreements. And they've doubled-down by supporting up to six protocols and working across a variety of platforms, including the Tor browser, Smart TVs, routers, and games consoles. They even sweeten the deal with a kill switch and DNS leak protection. Take a look for yourself.
CactusVPN does not collect logs on anything. And when we say "anything," we mean NOTHING. This is surprisingly rare in a world filled with shady VPNs. They won't hesitate to declare "No Logging," on their site, only to bury the grim details somewhere in a Privacy Policy or Terms of Service.
But in this case, CactusVPN means it. They won't track browsing history, connection logs, DNS logs, or any other traffic logs. Of course, they'll need to keep payment records. However, if they have no connection logs to match them to, you should be golden.
Outside Any Security Agreements, Best Privacy Policy
Moldova is located outside any data-sharing intelligence agreements. Here's the thing: VPNs can mask all types of legally-questionable behavior online. But the companies behind each can't always protect their users when the local authorities come calling.
Most won't hesitate to hand over data when pressured by governments. And if their home country is located inside one of the Eyes alliances, that data will also be turned over to most civilized countries around the world. Moldova doesn't play that game, though.
Any other government request for your records is going to be politely or impolitely — rebuffed. This, on top of a legitimate 'no logs' policy, implies that CactusVPN has your back.
Supports Six VPN Protocols, AES-128 Encryption, and a Kill Switch
CactusVPN supports OpenVPN, L2TP/IPSec, IKEv2, SSTP, SoftEther, and PPTP. OpenVPN will generally be your go-to. But the other protocol options come in handy for specific devices (like IKEv2 on iOS), or outdated, sluggish connections. Most VPN's we've reviewed offer some mix of these six. However, one slight difference from the rest is that CactusVPN has opted to only offer AES-128 encryption.
Technically speaking, this is less secure than the beefier AES-256 option. Their logic is that the difference is slim. And they kinda have a point, practically speaking. Most hacks won't be through your encryption.
They'll try to go after simple errors or user negligence, first. If you're on an older device, this lower encryption will also come in handy because AES-256 puts extra strain on the computer's CPU).
CactusVPN also adds a built-in kill switch to their VPN clients. But you'll have to switch it on, first.It's not enabled by default, so you'll need to go into the app's settings and manually switch it on to protect yourself from accidental leaks when your Internet connection drops.
Simple Setup with No Lags or Complaints
There's not much to say about the CactusVPN client. And that's a good thing believe it or not. No major lags, crashes, or other complaints while using it.
You'll need to start at the Services page, then look for a link that says "Set up CactusVPN."
Next, you'll be taken to a page with one-click download option for your device and operating system.
Download the install file and within a few seconds, the client appears:
Login with your customer account details and customize your server location preferences.
By default, they are sorted by country. But you can also sort them by speed.
Then choose your server and click the green "Connect" button. That's it.
The only annoying thing about the whole process is that in order to change servers, you need to disconnect from the current one. So make sure you have that kill switch enabled, first, before disconnecting to switch around. Interestingly, they have also offered a related service called SmartDNS. Cactus provides a test so you can figure out which is the right choice for you. More on this extra feature down below.
Works on Tons of Platforms
It's pretty standard for most VPNs to support Windows, MacOS, iOS, and Android devices. But those aren't the only ways you connect to the Internet today. And the problem is that if your VPN provider doesn't make a ready-made client for each unique platform, it'll require technical expertise or lots of troubleshooting to finagle a workaround. Thankfully, CactusVPN has mercy.
Their service is compatible on everything from the Amazon Fire TV to Linux Ubuntu, Chromebooks, Boxee Box, routers, games consoles, and other Smart TVs by Apple or Samsung. Geez, that's a lot! After that long list, it shouldn't come as a surprise that CactusVPN also works with the Tor browser. You can even connect to five devices simultaneously. (Or, with the help of a router, unlimited.)
Customer Support Is Fast, Friendly, & Professional
A flawless product can be derailed by one bad customer service experience. You're going to be left with a sour taste in your mouth if the company can't step up to the plate and help when it matters most. That's exactly why we test each and every VPN's customer service quality, response time, and overall friendliness. CactusVPN also offers live chat.
However, I decided to try their email support: I sent an email over with a few general questions. At this point, most companies will take around a day to get back to us. The fastest times we've seen clock in somewhere around a few hours.
Incredibly, it only took CactusVPN four minutes to offer a custom reply. You know, from like an actual human being. I even tried to trick them with a few follow-up email replies. But each time, it only took a few minutes for them to answer.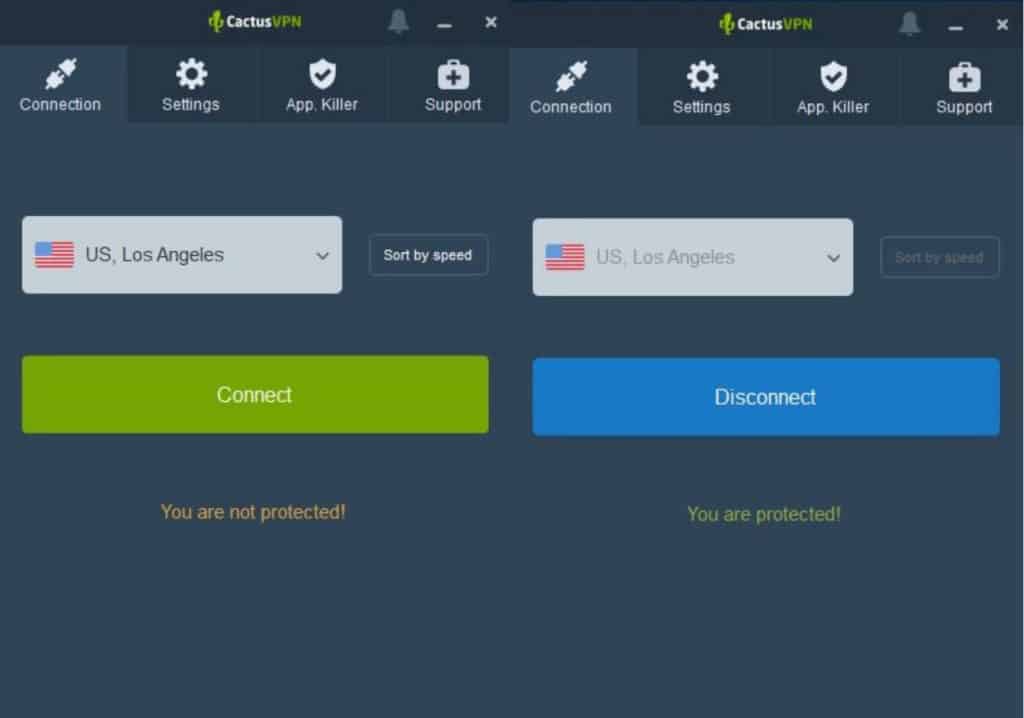 CactusVPN Cons
I'll be honest, we didn't know what to expect with little-known CactusVPN. I'd never really heard of them before trying out there service. But the initial experience was pretty encouraging. Unfortunately, there were a few issues along the way. Each popped up once we started putting them through a few tests. Here are the biggest problems we found.
Slow Server Speeds
Remember the protocols and encryption section above? CactusVPN opts for AES-128, rather than the bigger version, because they claim that it should help performance across the board. In other words, they're OK with sacrificing a little security for a lot of speed. Want to compare speeds? Then check our guide with the fastest VPN providers at this moment.
Our normal connection speeds clocked in at 97.00 Mbps download and 53.00 Mbps upload. Then, we connect to a few different VPN servers and retest to measure the difference. Here's what we saw on the CactusVPN U.S. servers:
U.S. Server:
Ping: 147
Download: 44.99 Mbps (53.6% slower)
Upload: 10.21 Mbps (80.7% slower)
The download speed is OK I guess. But the upload speed is incredibly slow. Over 80% slower, at 10.21 Mbps, is practically unusable. The EU server was only able to perform slightly better.
EU Server (Netherlands):
Ping: 84
Download: 44.28 Mbps (54.4% slower)
Upload: 18.54 Mbps (65% slower)
There wasn't really much of a difference between the US server and the EU server, to be honest.Both were just slow. Normally, you can point to different factors, like server location, as the underlying reason for poor performance. The further away you're actually sitting from the server you're trying to connect, the lower connection speed you can expect.Except, when you have servers on two different continents with virtually the same (slow) speed, that's not a distance issue. That's a company-wide issue. And it's troubling, certainly because this isn't the cheapest VPN.
Not that great with Netflix access
The CactusVPN website claims to be able to unblock dozens and dozens of services. The very first one on their list, as pictured above, is Netflix US. Except for one teensy, tiny problem. I tried accessing Netflix on all four of their U.S. servers. And none of them worked. When I asked customer support about this, they told me that their VPN does not unblock geo-blocked content and that means this isn't the perfect Netflix streaming VPN at the moment.
So if you want that, you need to pay for a separate service called SmartDNS. Boo. Many VPNs throw this stuff in for free, without cross-selling you an additional product. Switching your theoretical location is kinda the whole point of using a VPN. I'd recommend these other VPNs for Netflix, instead, if you're trying to stream foreign content.
Torrenting is Limited
On the one hand, CactusVPN allows torrenting. Awesome, right? Except, they only allow it on a few selected servers. Why is that bad? Because as we already alluded, the farther you're physically from a VPN's server, the slower your connection will be. Currently, the only torrenting-friendly servers are in Europe, that means that this isn't the perfect VPN for torrenting.
Cool if you're in Europe. Not cool if you're not. But that's only the first potential performance issue that will plague your CactusVPN torrenting experience. There are only a handful of torrenting servers available, which means they're likely to get overcrowded by other people with the same end goal in mind.
Overcrowding often means your server's resources get spread too thin. And in addition, these torrenting servers are banned on two of their three packages. That means you'll need to shell out for the most expensive plan to access servers that probably aren't going to be very quick.
CactusVPN Pricing
CactusVPN starts around $3.49-$4.89 for month-to-month plans (an automatic 30 percent savings). From there, you can save around 40% by prepaying quarterly ($3.03-$4.19 a month). Or you can even cut about 54% by paying annually ($2.27-$3.20 a month).
Their extra SmartDNS product is $4.89 a month, $4.19 a month quarterly, and $3.20 a month annually.
You can pay for these products using your favorite credit or debit card. You can also use a few different third-party payment gateways, like PayPal. Or you can even use Bitcoin and Altcoins. Great for people who are interested in anonymous payments!
Cash is not supported. Neither is waxing the CEO's car for account credit. They offer a free VPN 24-hour trial period, along with a 30-day money-back guarantee. So you can try out both the VPN software and SmartDNS before ponying up any cash. Nice!
Do We Recommend CactusVPN?
Not really. CactusVPN came in 42nd out of 78 VPNs overall. They were solidly middle-of-the-pack in most areas. We were initially encouraged by their plethora of protocol options and device compatibility. The client worked just as advertised. And their customer support was truly excellent. Their sub-five minute email replies were lightening-quick compared to some competitors that have taken days (if not weeks) to respond to us.
Fast, simple, low cost, and reliable service with some limitations. CactusVPN is a great service for beginners, it is easy to set up, is very fast, and has a great low-cost service. The encryption is reliable, and everything is easy to understand. CactusVPN is great for someone new to VPN services and just wants some added security online, but those who will use more from the internet and expect to use P2P software regularly may find this option to be too restrictive. There are better options available at this point like ExpressVPN and NordVPN.
But things started sliding quickly when we started up the speed tests. Neither of which was fast, unfortunately. And that's even accounting for the lower-than-normal encryption standard that's supposed to improve this very function.
Netflix didn't work at all. And torrenting/P2P compatibility has more rules than a… well, let's just say there are A LOT. Overall, it's OK. Not awful, but not awesome, either.